Hey, y'all! In my eyes, there is no Kentucky bakery more iconic than Burke's Bakery. Located on Main Street, which is more picturesque than ever with the recent renovations, Burke's is a multi-generational family business that serves up a wide array of delicious, well-priced treats.
The bakers at Burke's Bakery arrive on-site in the wee hours of the morning. Unlike many bakeries, Burke's prides itself on being fully from-scratch.
I couldn't even begin to count the amount of times I walked to Burke's from Centre College's campus. Throughout my four years at Centre, Burke's was a constant! If you haven't been, know this: you've been missing out!
Burke's Bakery
Thank you to Danville-Boyle County Convention and Visitors Bureau and the Kentucky Department of Tourism for sponsoring this post.
Subscribe To Receive New Posts Straight In Your Inbox
Burke's Bakery Menu
When you walk into Burke's Bakery, you'll find a long line of glass counters lining the entire length of the shop. Multiple clerks assist customers in selecting from the case; items can be purchased in singles or larger quantities.
The menu at Burke's Bakery is ginormous; there will be one, or ten, items for any taste palate. Additionally, it must be noted that Burke's is very affordable. Many of the sweet treats hover around the $1-$1.50 range, with some being less than $1.
Burke's offers a plethora of cake options, from wedding cakes to cupcakes, german chocolate, coconut, fudge, coffee, and angel food cakes.
They also make cream pies, which range from lemon, chocolate and coconut to peanut butter, butterscotch, and cherry cream. You can also order chess and pecan pies from the bakery. As for fruit pies, they make apple, peach, dutch apple, and cherry.
Cookie options include spice bars, sugar cookies, fruit drops, nut dainties, chocolate chip, gingerbread and fondant drops.
As for doughnuts, they offer yeast, chocolate yeast, donut holes, powdered, cinnamon cake, chocolate cake, caramel cake, toasted crumb cake, blueberry cake, custard-filled, jelly-filled, and glazed.
The crumb doughnut is my choice!
Other sweet treats include cream horns, chocolate delights, cinnamon rolls, and danishes.
My favorite thing at Burke's Bakery is the homemade bread; I'm a huge fan of the sourdough and salt-rising bread, though the butter-top rolls are my top choice. Be sure to grab a pack or two when visiting!
Visit Burke's Bakery
121 W. Main St., Danville, KY | 859-236-5661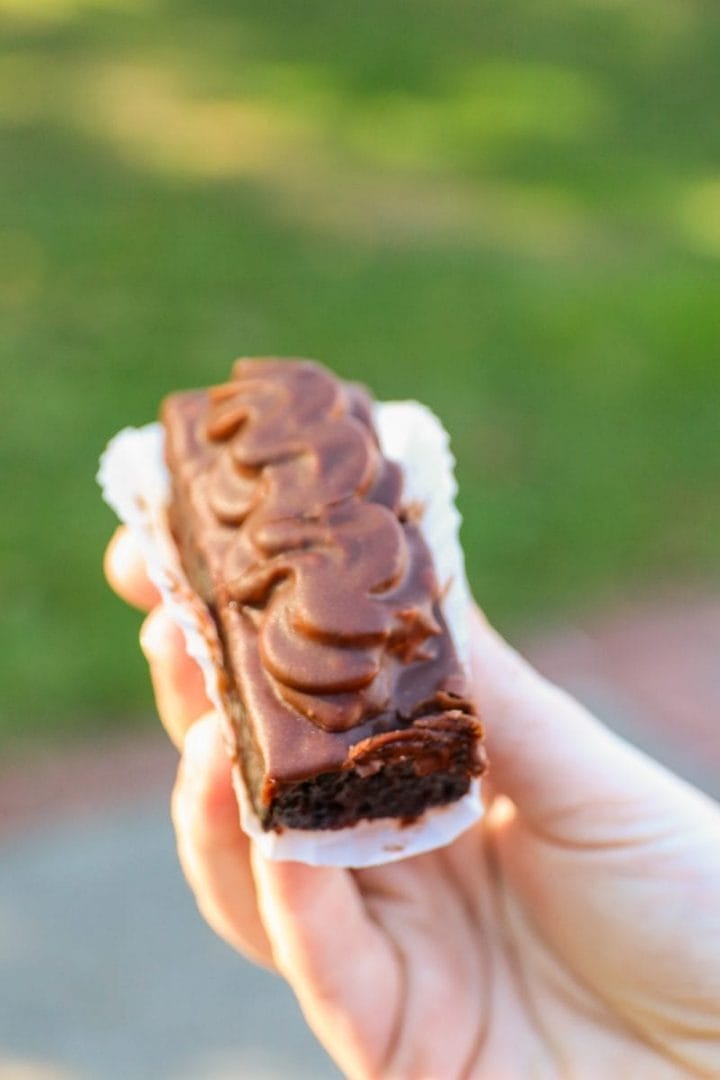 Y'all come back now, ya hear?
My best,
JC
Keep Up With JCP Eats
Thank you so much for visiting the blog today! I'd love to keep in touch via social media. You can follow my content on Instagram, Facebook, Pinterest, Tik Tok, Twitter, and LinkedIn.