Hey, y'all! Cocktail meatballs are a staple at any party, though especially parties here in the south. While I've had many varieties (and truly love many of them), I'm excited to be sharing my favorite version with y'all today: my Bourbon BBQ Cocktail Meatballs! While these just have a couple of ingredients, they are immensely flavorful and are sure to be a crowd favorite. Serve them at your next bridal shower, Derby Party, game day, or family get-together! The best part? They take only a couple of minutes to prep!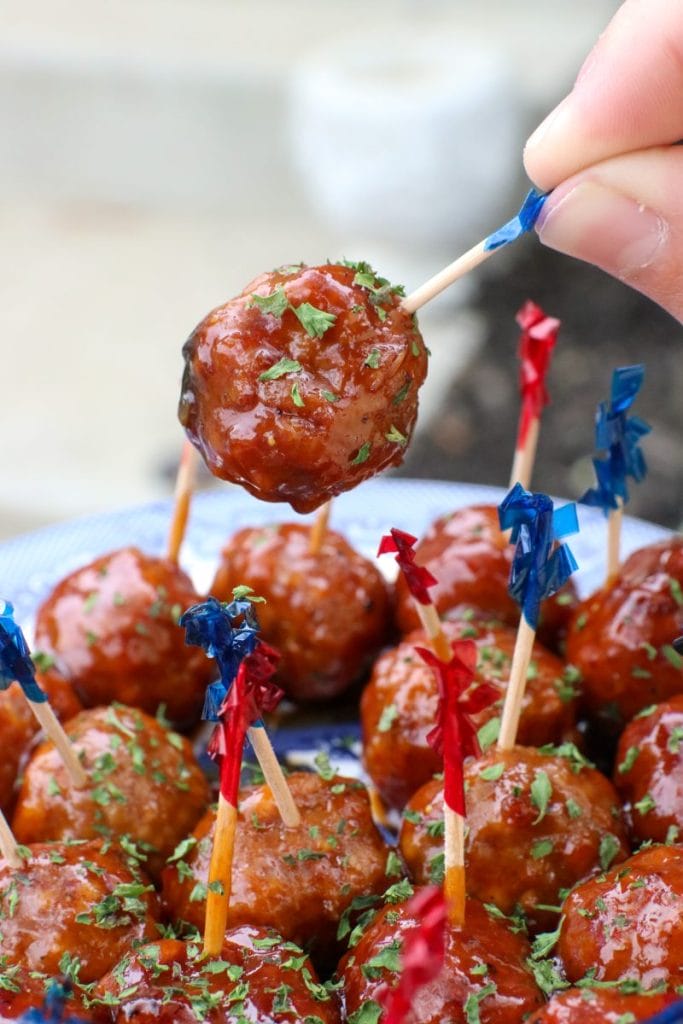 Bourbon BBQ Cocktail Meatballs: Party Appetizers
JC's note: you'll want to pick up a bag of frozen, cooked meatballs from your local grocery store for this recipe. You can find them at Kroger, Trader Joe's, and Aldi (which is where I typically purchase mine).
Bourbon BBQ Cocktail Meatballs
These Bourbon BBQ Cocktail Meatballs are delicious + so easy to make! The secret? Using Kentucky Bourbon!
Ingredients
1

bag

Frozen Meatballs

2

c

BBQ Sauce

1

c

Kentucky Bourbon

½

c

Honey

½

c

Sweet Chili Sauce

Garlic Powder

to taste

Red Pepper Flakes

to taste

Chopped Parsley

for garnish
Instructions
Add meatballs to your crockpot. For easy cleanup, use a crockpot liner.

Add BBQ Sauce, KY Bourbon, Honey, Sweet Chili Sauce, Garlic Powder, and Red Pepper Flakes to the meatballs. Stir until fully-mixed and evenly-coated.

Cook on low for roughly 4 hours, stirring occasionally.

Stir before serving and season additionally to taste. Enjoy!
Nutrition
Calories:
326
kcal
Carbohydrates:
30
g
Protein:
12
g
Fat:
12
g
Saturated Fat:
4
g
Polyunsaturated Fat:
1
g
Monounsaturated Fat:
5
g
Cholesterol:
41
mg
Sodium:
884
mg
Potassium:
192
mg
Fiber:
1
g
Sugar:
28
g
Vitamin A:
4
IU
Vitamin C:
1
mg
Calcium:
9
mg
Iron:
1
mg
Enjoy reading about my Bourbon BBQ Cocktail Meatballs? Check out my other blog posts here.
Choosing Your Bourbon
While I do love bourbon, as it is my state's native spirit, I'll say this: I'm not a bourbon snob when it comes to cooking. If you are purchasing bourbon specifically for this recipe, my recommendation is to purchase a lower tier bottle. If you have a mid-level bourbon that is already open and you don't care to use, go ahead. That said, I think the key is this: stay within your budget, don't cook with your best bourbon, and know that the flavor of the dish will be great no matter the bottle!
How easy is that? I know y'all are going to love these Bourbon BBQ Cocktail Meatballs! Only one warning: they're addicting!
Y'all come back now, ya hear?
My best,
JC
Love the recipe for my Bourbon BBQ Cocktail Meatballs? Check out the rest of my website here.
Keep Up With JCP Eats
Thank you so much for visiting the blog today! I'd love to keep in touch via social media. You can follow my content on Instagram, Facebook, Pinterest, Tik Tok, Twitter, and LinkedIn. I also author a sister website to JCP Eats, Unabashedly Southern, on which I write about southern lifestyle. Read Unabashedly Southern here.