Hey, y'all! There are few foods that I associate more with my childhood than Homemade Strawberry Freezer Jam. Growing up in Southern Kentucky, I've hardly ever known a time where I couldn't find homemade freezer jam in a mason jar in the kitchen. It's multi-faceted, in that you can use it on toast, pound cake, or a multitude of other treats. However, if you're like me, sometimes you will just crave a spoon-full (no judgement here...)! The best part? It's SO easy to make!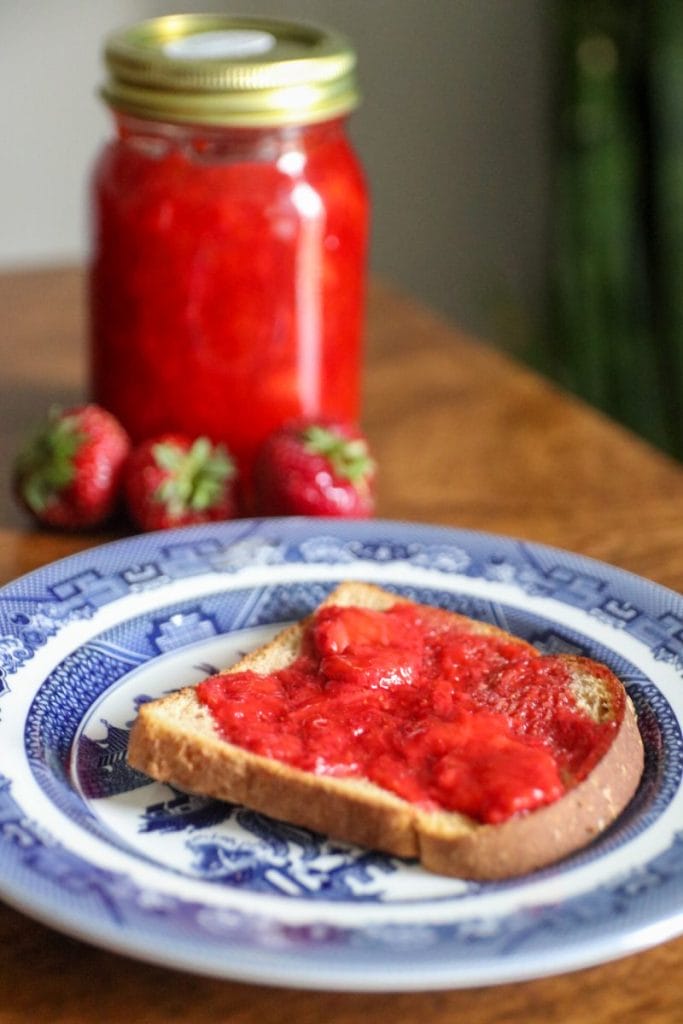 Homemade Strawberry Freezer Jam
What Is Freezer Jam?
Freezer Jam can be made with a multitude of fruits; at its core, it's a combination of fruit, pectin (Sure-Jell), and sugar. It's a very simple process that leads to great reward!
FAQ
What sort of container should I use?
My top recommendation is to use a mason/glass jar with a lid.
How long does freezer jam keep in the freezer?
Freezer jam is best-used in the freezer in a one year (12 month) period.
How long does freezer jam keep for in the refrigerator?
Freezer jam is best-used in the refrigerator in a 3-5 week time period.
What Fruits Can You Make Freezer Jam With Using Sure-Jell
Though this recipe is for Homemade Strawberry Freezer Jam, there are many varieties of fruit that you can make freezer jam with -- some varieties include: apricot, blackberry, blueberry, cherry, peach, mango, and raspberry.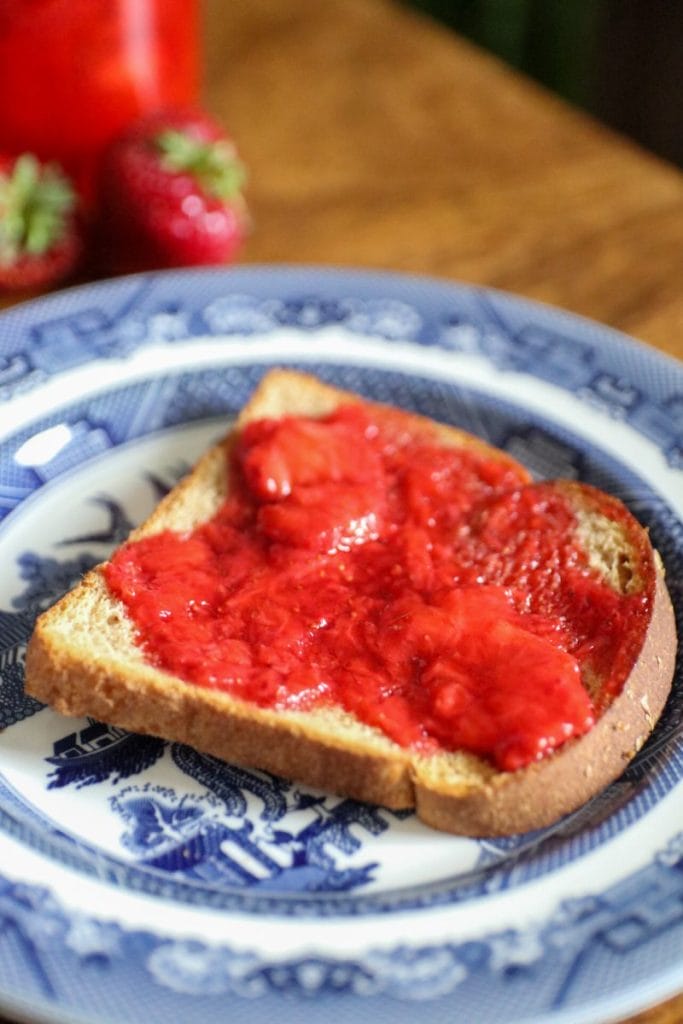 The Recipe
The key to making the best homemade strawberry freezer jam is to use the highest-quality of strawberries. The batch that you are seeing in these photos was made using strawberries grown by a close family friend, Henry, here in Kentucky. It's best to make freezer jam when the fruit of choice is in-season.
Homemade Strawberry Freezer Jam with Sure-Jell
Homemade Strawberry Freezer Jam is immensely easy to make, as it only requires three ingredients: fruit, pectin, and sugar. Enjoy, y'all!
Ingredients
4

c

fresh strawberries

4

c

sugar

1

box

Sure-Jell

¾

c

water
Instructions
Remove and discard strawberry stems. Crush strawberries. 4 cups of fresh strawberries should yield roughly 2 cups of crushed strawberries. Use ONLY 2 cups of freshly-crushed strawberries in the recipe.

Add 4 cups of sugar to the crushed strawberries. Do not reduce the amount of sugar/use sugar substitutes; it will result in setting failures.

Stir 1 package of Sure-Jell Premium Fruit Pectin and ¾ cup of water in a small saucepan. Bring to a boil on high heat, stirring constantly. Boil for 1 minute, stirring constantly. Remove from heat.

Add pectin mixture to fruit + sugar mixture. Stir for 3 minutes or until sugar has completely dissolved.

Pour freezer jam mixture into mason jars, leaving ½ inch spaces at the top for expansion during freezing. Cover tightly with a lid.

Allow the freezer jam to stand at room temperature for 24 hours (or until fully set). Refrigerate for immediate use; freeze for future use.
Nutrition
Calories:
653
kcal
Carbohydrates:
168
g
Protein:
1
g
Fat:
1
g
Saturated Fat:
1
g
Polyunsaturated Fat:
1
g
Monounsaturated Fat:
1
g
Sodium:
5
mg
Potassium:
179
mg
Fiber:
2
g
Sugar:
165
g
Vitamin A:
14
IU
Vitamin C:
68
mg
Calcium:
21
mg
Iron:
1
mg
I want to know: what's your favorite type of freezer jam?
Y'all come back now, ya hear?
My best,
JC
Keep Up With JCP Eats
Thank you so much for visiting the blog today! I'd love to keep in touch via social media. You can follow my content on Instagram, Facebook, Pinterest, Tik Tok, Twitter, and LinkedIn. I also author a sister website to JCP Eats, Unabashedly Southern, on which I write about southern lifestyle. Read Unabashedly Southern here.
Enjoy the recipe for my Homemade Strawberry Freezer Jam? Check out my other recipes here.