Hey, y'all! I love visiting our local Indian restaurants here in Louisville; their dishes are complex and feature so many layers of flavor. After many orders of spicy chicken curry, I decided I wanted to learn how to make it on my own. The result? My newest recipe: Spicy Chicken Curry, which pairs perfectly with Minute® Jasmine Rice! I know you're going to love it—and you'll be surprised by how approachable of a recipe that it is!
This post has been sponsored by Minute® Rice. All thoughts and opinions are my own.
Spicy Chicken Curry Recipe with Minute® Rice
About Minute® Rice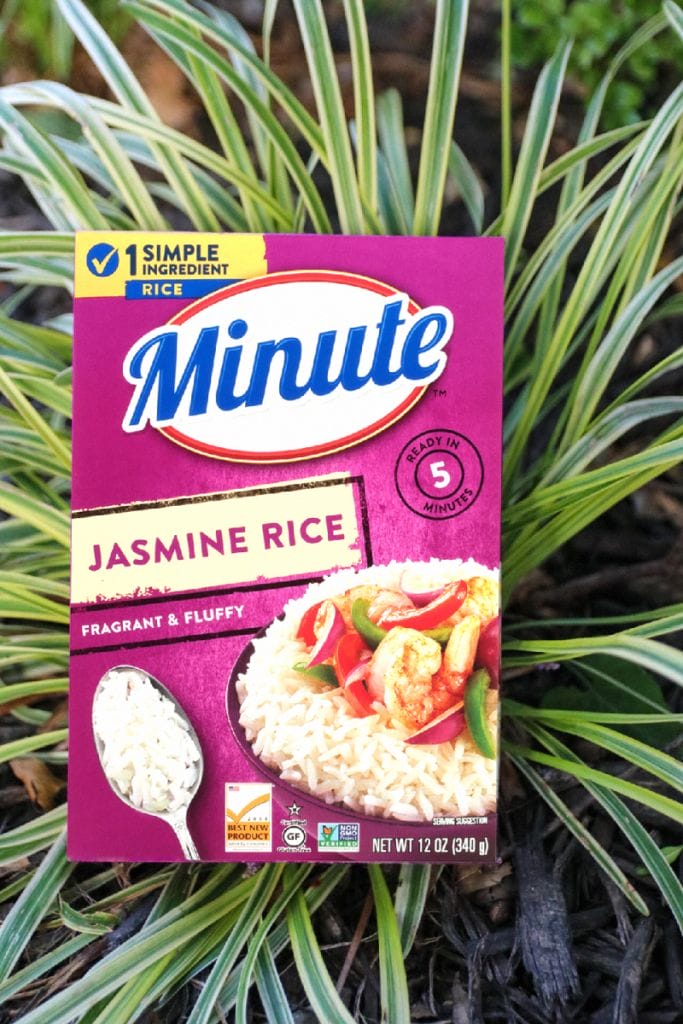 My favorite accompaniment to my Spicy Chicken Curry—and to many of my recipes—is Minute Rice. Why? It's the perfect solution for quick meals. Making rice in the traditional way is a daunting task, as it takes so long. Minute Rice delivers the same delicious quality rice in a fraction of the time (5 minutes!). Without worrying about rice preparation, we all can get the most out of our mealtime. This versatility in my cooking is very much appreciated for my fast-paced lifestyle.
You'll see the Minute Jasmine Rice 12 oz box featured in this recipe, though Minute boasts a wide array of varieties (jasmine, white, yellow, brown, multi-grain + many more). I picked mine up at my local Kroger!
Spicy Chicken Curry Recipe
Recipe FAQ
What equipment do I need for this recipe?
For ease, I start cooking my chicken and onions in a large skillet and then add all ingredients into a slow cooker. I find this to be the easiest way!
After the chicken is done cooking, there is oil on top in the slow cooker. What should I do with it?
You can either dip it out or stir it back in—completely up to you! I personally stir it back in.
This recipe calls for a lot of spices - do I need them all?
The art of making Indian food requires several spices. The spices set the foundation for the beautiful, complex flavor profiles. I recommend using them all (you will have several in your pantry already) + purchasing the others, as you'll want to remake this recipe over and over! 
Can I make the curry thicker?
You absolutely can! Simply stir in a mixture of cornstarch + water (a 1:2 ratio of cornstarch to water).
This recipe makes a large portion, can I make it smaller?
Absolutely! As I know many of us are on-the-go, I made this recipe larger on purpose. This portion size is perfect for meal prepping/leftovers! That said, if you don't want to make a portion this large, simply cut all ingredients by the same proportion. It would be easiest to cut it in half!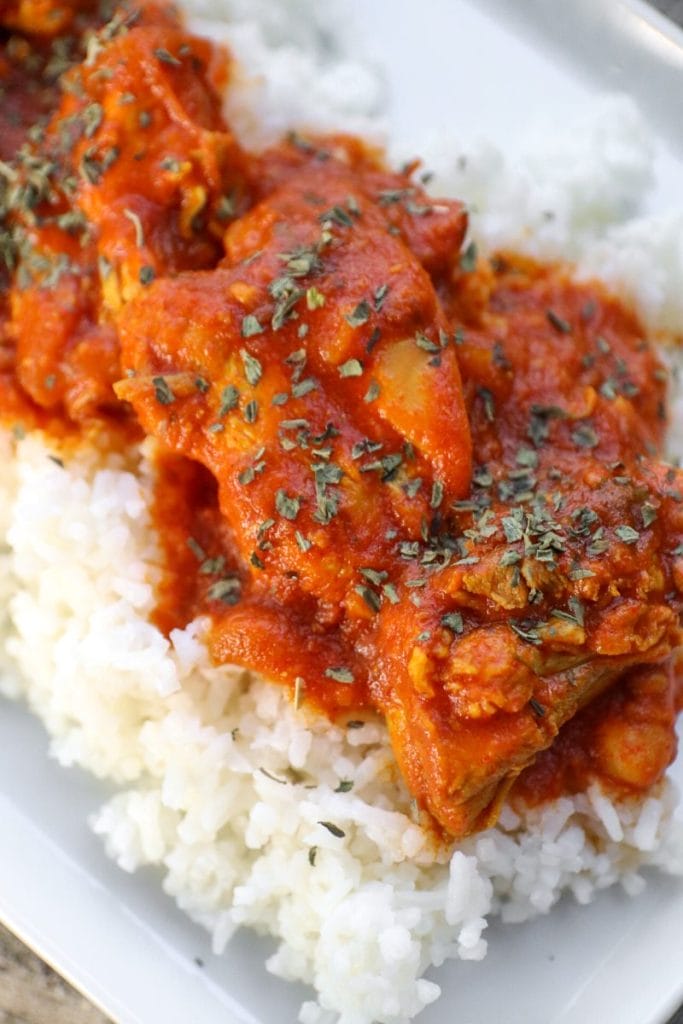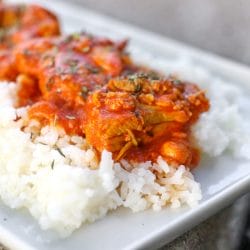 Spicy Chicken Curry
Looking for the perfect at-home Indian recipe? Look no further than my Spicy Chicken Curry, which pairs perfectly with Minute Jasmine Rice! For your ease, it's prepared mostly in a slow-cooker!
Ingredients
12

oz

Minute Jasmine Rice

2

lbs

chicken breast

diced

2

vidalia onions

chopped

3

c

coconut milk

full-fat

1.5

c

chicken stock

28

oz

diced tomatoes

.25

c

tomato paste

3

jalapeños

diced

1.5

tablespoon

sugar

2

tablespoon

curry powder

1

tablespoon

cumin

2

tablespoon

ground coriander

2

tablespoon

chili powder

1

tablespoon

black pepper

1

tablespoon

kosher salt

1

tablespoon

ground ginger

2

tablespoon

minced garlic

1

tablespoon

garam masala

2

teaspoon

cinnamon

1

teaspoon

nutmeg

1

teaspoon

paprika

olive oil

for cooking
Instructions
Preheat slow cooker to high.

In a large pan, heat olive oil over medium-high heat. Add in chopped onions and cook for 3-4 minutes.

Add diced chicken breast to a large bowl with chopped jalapeños, curry powder, ground coriander, chili powder, black pepper, kosher salt, ground ginger, minced garlic, garam masala, cinnamon, nutmeg, paprika, and an additional 2 tablespoon of olive oil. Using your hands, coat the chicken with all the spices evenly. Add to pan with onions and cook for 4-5 minutes.

In your slow cooker, add chicken stock, sugar, coconut milk, diced tomatoes, and tomato paste. Stir until well-combined.

Add in onions + seasoned chicken breast. Cook on high for 4 hours or on low for 6 hours.

Serve over Minute Jasmine Rice + enjoy!
Nutrition
Calories:
557
kcal
Carbohydrates:
58
g
Protein:
33
g
Fat:
23
g
Saturated Fat:
17
g
Polyunsaturated Fat:
1
g
Monounsaturated Fat:
2
g
Trans Fat:
1
g
Cholesterol:
74
mg
Sodium:
1199
mg
Potassium:
1205
mg
Fiber:
6
g
Sugar:
11
g
Vitamin A:
977
IU
Vitamin C:
25
mg
Calcium:
128
mg
Iron:
7
mg
Purchase Minute Rice at Kroger
Grab a 12 oz box of Minute Jasmine Rice the next time you are at Kroger. I love shopping at Kroger because it's truly a one-stop shop—the perfect destination to gather everything that you need for a recipe. While in the rice aisle, check out the many other options from Minute, too!
Y'all come back now, ya hear?
My best,
JC
Thank you so much for visiting the blog today! I'd love to keep in touch via social media. You can follow my content on Instagram, Facebook, Pinterest, Tik Tok, Twitter, and LinkedIn. I also author a sister website to JCP Eats, Unabashedly Southern, on which I write about southern lifestyle. Read Unabashedly Southern here.