This post was sponsored by Anova as part of an Influencer Activation for Influence Central and all opinions expressed in my post are my own.
Hey, y'all! Have you ever tried cooking sous vide? While I am semi-new to the process, I'm hooked due to the control and precision that you have over the cooking process. I recently started cooking with my (ANOVA)ᴿᴱᴰ Precision Cooker and I'm excited to share about it with y'all today. While there are many recipes that you can cook with the (ANOVA)ᴿᴱᴰ Precision Cooker, I'll also be sharing a recipe for Sous Vide Filet Mignon. I know y'all are going to love this tool as much as I do!
About ANOVA
ANOVA exists to change the way people cook -- especially for those of us with busy lives. When cooking sous vide with the (ANOVA)ᴿᴱᴰ Precision Cooker, your proteins and vegetables can stay in the sous vide bath until you're ready to eat. Doing so causes no loss of quality and no chance of overcooking. It also ensures that your food is exactly the correct temperature, something that cannot be appropriately controlled via other cooking methods with precision. Cooking with the (ANOVA)ᴿᴱᴰ Precision Cooker allows you to have dinner on your schedule + perfect, predictable results each time. For a home cook like me, that is immensely valuable!
Learn more about the (ANOVA)ᴿᴱᴰ Precision Cooker that I have here.
Partnership with (RED)
I'm extremely grateful to partner with ANOVA because they have always exhibited a commitment to community, though most recently with (RED). (RED) exists to combat global health emergencies, like COVID and AIDS. The fight against AIDS has been at the forefront of (RED)'s efforts since 2006; that said, they recently expanded their mission to fight the urgent threat of COVID, as it has had a devastating impact on some of our most vulnerable populations.
With your purchase of an (ANOVA)ᴿᴱᴰ Precision Cooker, 5% of your purchase price will go directly to the Global Fund. The minimum guaranteed donation is $200,000 -- how awesome is that?! That's hundreds of thousands of dollars to support and strengthen health systems and life-saving programs in communities of need.
You can learn more about (RED) and the monumental work that they do here.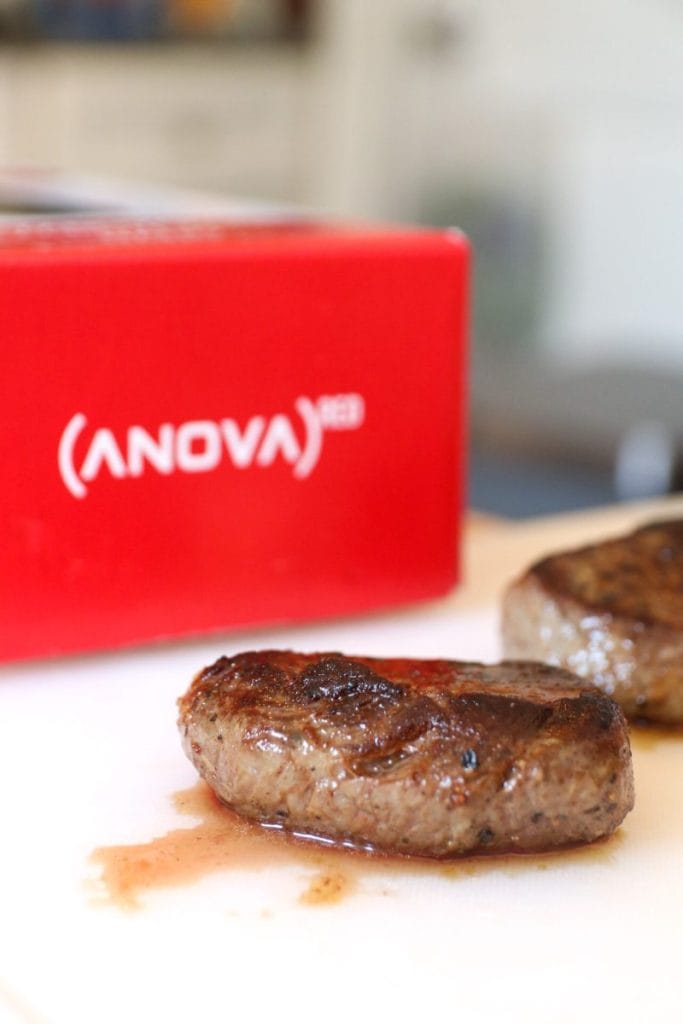 Sous Vide Filet Mignon
So, you want to support (RED)'s mission by purchasing an (ANOVA)ᴿᴱᴰ Precision Cooker. What next? Download the ANOVA app from the App Store and get ready to be inspired! I loved looking through the multitude of recipes and look forward to creating more of them in the future. I'm excited to share a recipe for Sous Vide Filet Mignon today (which I found on the app!).
Sous Vide Filet Mignon
Looking for a foolproof way to cook the perfect steak? Try making this sous vide filet mignon with the ANOVA Precision Cooker!
Equipment
Anova Precision Cooker

cast iron skillet
Ingredients
2

Filet Mignons

½

Stick of Butter

Kosher Salt

Black Pepper
Instructions
Set the Anova Sous Vide Precision Cooker to 130.0ºF / 54.4ºC.

Pat room temperature steaks dry.

Liberally season both sides of steak with kosher salt and pepper. Place in a medium zipper lock/vacuum seal bag. Allow little to no air to be trapped inside the bag.

Place the bag in the water bath and set the timer for 2 hours.

When the steaks have finished cooking, remove from the water bath and bag. Pat dry.

Heat butter in a cast iron skillet over high heat. When melted and hot, add filets and sear for 30 seconds per side, only flipping once.

Transfer steak to a cutting board and let rest for 4 minutes. Enjoy!
Notes
This is for a medium rare steak. Increase temperature and/or sear for longer if you desire your steak to be more done.
Nutrition
Calories:
468
kcal
Protein:
31
g
Fat:
37
g
Saturated Fat:
15
g
Polyunsaturated Fat:
2
g
Monounsaturated Fat:
16
g
Cholesterol:
119
mg
Sodium:
86
mg
Potassium:
517
mg
Vitamin A:
9
IU
Calcium:
12
mg
Iron:
4
mg
If you're looking to make the perfect steak (or anything for that matter) each time, look no further than the (ANOVA)ᴿᴱᴰ Precision Cooker. ANOVA gives home cooks - like myself - the tools that the pros use to get consistent results every time. The precision and control that stems from the sous vide cooking method cannot be surpassed; for that reason: I am hooked.

My best,
JC

Keep Up With JCP Eats

Thank you so much for visiting the blog today! I'd love to keep in touch via social media. You can follow my content on Instagram, Facebook, Pinterest, Tik Tok, Twitter, and LinkedIn. I also author a sister website to JCP Eats, Unabashedly Southern, on which I write about southern lifestyle. Read Unabashedly Southern here.

Enjoy reading about Sous Vide Filet Mignon with the (ANOVA)ᴿᴱᴰ Precision Cooker? Check out my other articles here!