Hey, y'all! You're probably familiar with a multitude of cobblers -- and you're most certainly familiar with pecan pie. What if I told you that you can combine the two and make the ultimate southern delicacy? Intrigued? Well, keep reading to unveil my Pecan Cobbler Recipe.
It's sure to become a crowd favorite this holiday season (and year-round) because of the secret ingredient: Rivulet Pecan Liqueur. My family, which you'll see in the post, loves it!
Jump to Recipe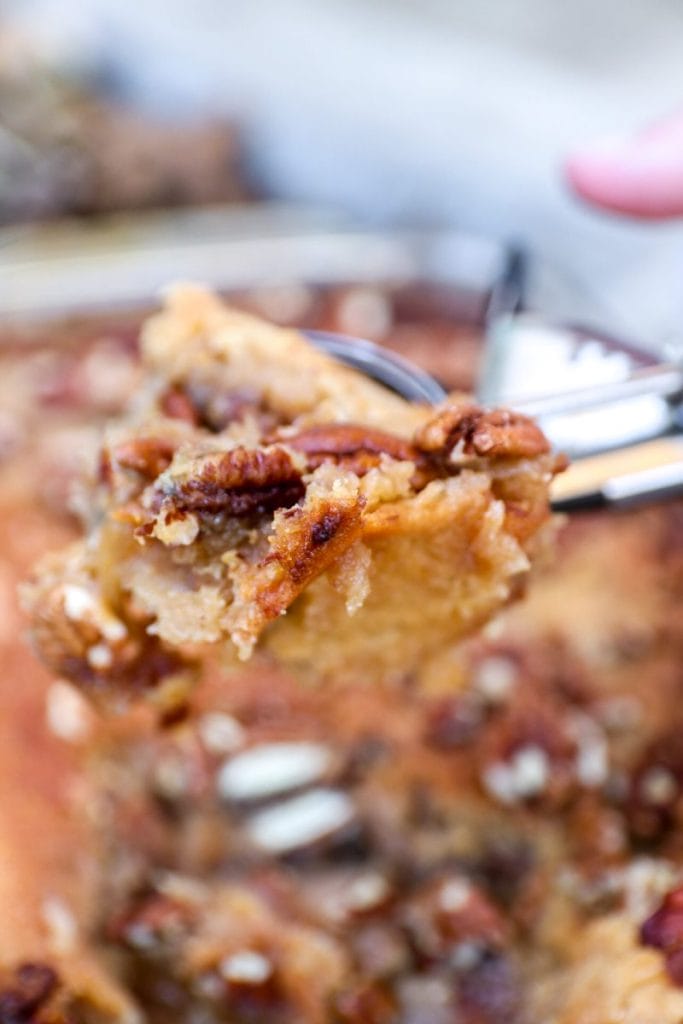 This post is in partnership with Rivulet. Thank you all for supporting the brands that make JCP Eats possible. All opinions expressed are my own.
Pecan Cobbler Recipe: A Southern Delicacy
Frequently Asked Questions
Why do I pour hot water over the cobbler?
It sounds strange, I know. But, you just have to trust the process! The hot water - combined with the brown sugar + the rest of the crust ingredients - comes together to make the most perfect crust. This is a popular method across many variations of cobbler. Try it once and you won't go back!
That sounds like a lot of butter. Can I substitute?
While y'all know that I love butter and do not shy away from it, I rarely stand 100% by a usage amount. That said, this recipe really needs the full amount of butter listed. As I said above, trust the process + the pecans will thank you!
I see that Rivulet is an ingredient. Tell me more!
Rivulet, which is an artisan pecan liqueur local to Louisville, is a wonderful addition to many cocktails and dishes. While the dish itself doesn't have to have pecans in it for Rivulet to be a wonderful addition, it takes a pecan-forward dish to the next level. The liqueur + pecans combine to create the best flavor you've tasted south of the Mason-Dixon!
Where can I find Rivulet?
Keep reading -- I have a store locator linked below!
Love my Pecan Cobbler Recipe? Check out the rest of my website here.
Ingredients, Shopping List:
Butter: one stick -- unsalted!
Pecans: You'll use one cup in this recipe. If you buy a larger bag and find it to be a better price point, store the leftover pecans in the freezer.
Self-rising flour: One and half cups, most likely already in your pantry.
White Granulated Sugar + Brown Sugar: One and half cups each.
Vanilla Extract: Don't skimp -- get high-quality vanilla!
Whole Milk: ¾ cup.
Rivulet: Louisville-based artisanal pecan liqueur. Keep reading to find out where to purchase!
Hot Water: Straight from the faucet!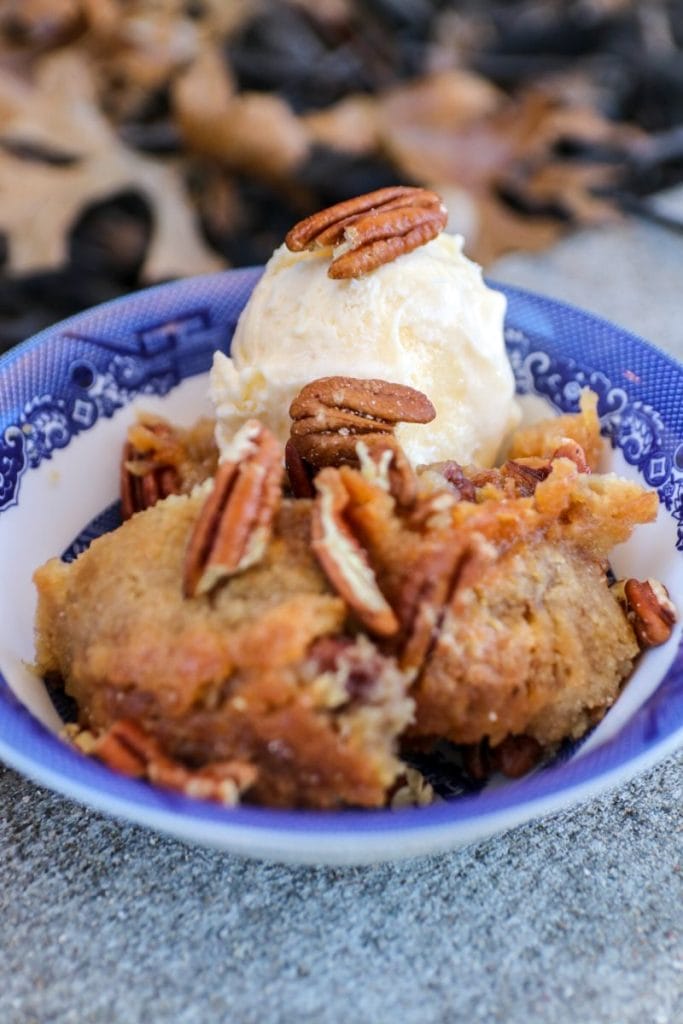 The Recipe
Love my Pecan Cobbler Recipe? Check out the rest of my website here.
Pecan Cobbler
Looking for an easy-to-make cobbler recipe? Try my pecan cobbler -- it's so good that you'll write your MeeMaw!
Ingredients
1

stick

butter

unsalted

1

c.

pecans

1.5

c.

self-rising flour

1.5

c.

white granulated sugar

1.5

c.

light brown sugar

packed

1.5

c.

hot water

¾

c.

whole milk

2

tbsp.

Rivulet

1

tbsp.

vanilla extract

vanilla ice cream

for serving
Instructions
Place stick of butter in a 9x13 baking pan. Place in the oven until butter is fully melted. Once melted, remove from the oven and toss pecans in the butter (they will remain on the bottom of the pan).

In a mixing bowl, combine the flour, Rivulet, white granulated sugar, whole milk, vanilla extract, and ½ c. of the brown sugar. Mix until fully-combined.

Pour batter over layer of butter + pecans. Don't mix.

Sprinkle the remaining 1 c. of brown sugar over the batter. Don't mix.

Pour the hot water on top of the cobbler. Don't mix.

Bake for roughly 45 minutes or until golden brown. Start watching it around the 35 minute mark!

Serve in a bowl with vanilla ice cream. Enjoy!
Nutrition
Calories:
588
kcal
Carbohydrates:
102
g
Protein:
7
g
Fat:
18
g
Saturated Fat:
2
g
Polyunsaturated Fat:
5
g
Monounsaturated Fat:
10
g
Cholesterol:
2
mg
Sodium:
20
mg
Potassium:
209
mg
Fiber:
3
g
Sugar:
73
g
Vitamin A:
43
IU
Vitamin C:
1
mg
Calcium:
75
mg
Iron:
1
mg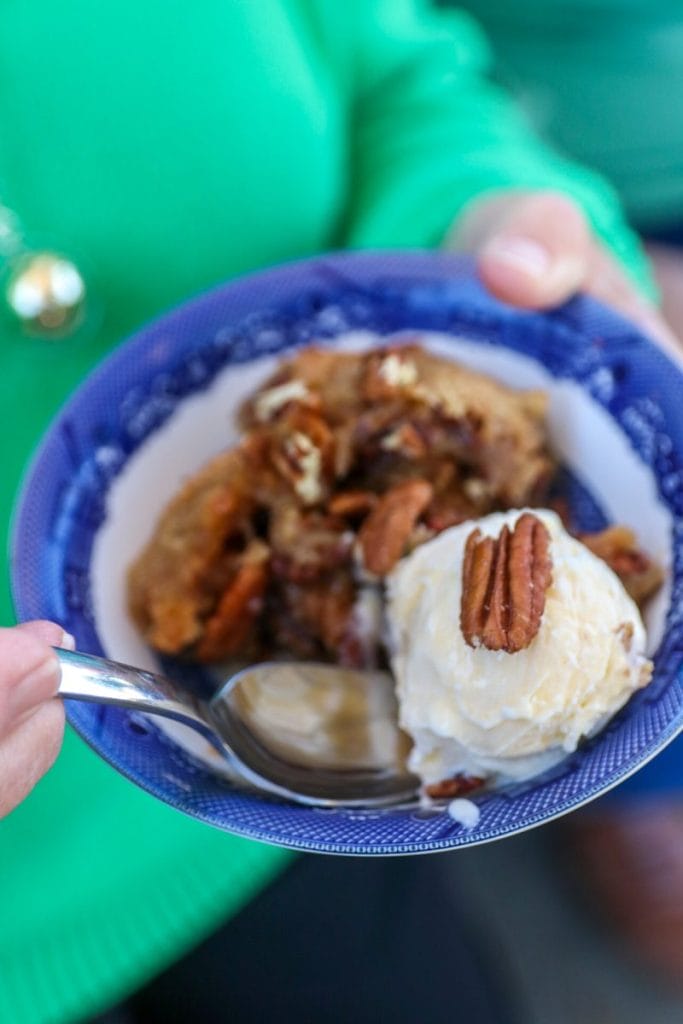 About Rivulet Pecan Liqueur
Rivulet® Artisan Pecan Liqueur is handcrafted in Louisville, KY. Rivulet starts with a 2-year-old, barrel-aged brandy. They then use a proprietary process to obtain the exquisite pecan essence, which I know y'all will love. It's a deep flavor — one that is signature to the brand — and I can't get enough of it. I also love that it's local!
Love my Pecan Cobbler Recipe? Check out the rest of my website here.
Where To Purchase Rivulet Pecan Liqueur
You can purchase Rivulet Pecan Liqueur via local retailers, along with finding it in bars/restaurants. To find out where you can buy it, click here.
My best,
JC
Love my Pecan Cobbler Recipe? Check out the rest of my website here.
Keep Up With JCP Eats
Thank you so much for visiting the blog today! I'd love to keep in touch via social media. You can follow my content on Instagram, Facebook, Pinterest, Tik Tok, Twitter, and LinkedIn. I also author a sister website to JCP Eats, Unabashedly Southern, on which I write about southern lifestyle. Read Unabashedly Southern here.