Hey, y'all! If you're not new around these parts of the Internet, you won't be surprised to hear this: Ina Garten, the Barefoot Contessa, is one of my utmost idols. I respect her elevated, refined, yet simple approach to food. It's one that I aspire to emulate, yet with a southern flair. As such, I greatly enjoy reading her cookbooks (I own each own) and love trying her recipes in my kitchen. I've made a few of them on the blog (learn how to make her caesar dressing here!) and hope to make more in the future. Today I'm excited to feature Ina Garten's Red Wine-Braised Short Ribs! Short ribs are one of my favorite entrées to order out and I had never made them at home prior to this. Her recipe makes restaurant-quality short ribs in a foolproof way -- and I know y'all are going to love them just as much as I do!
Jump to Recipe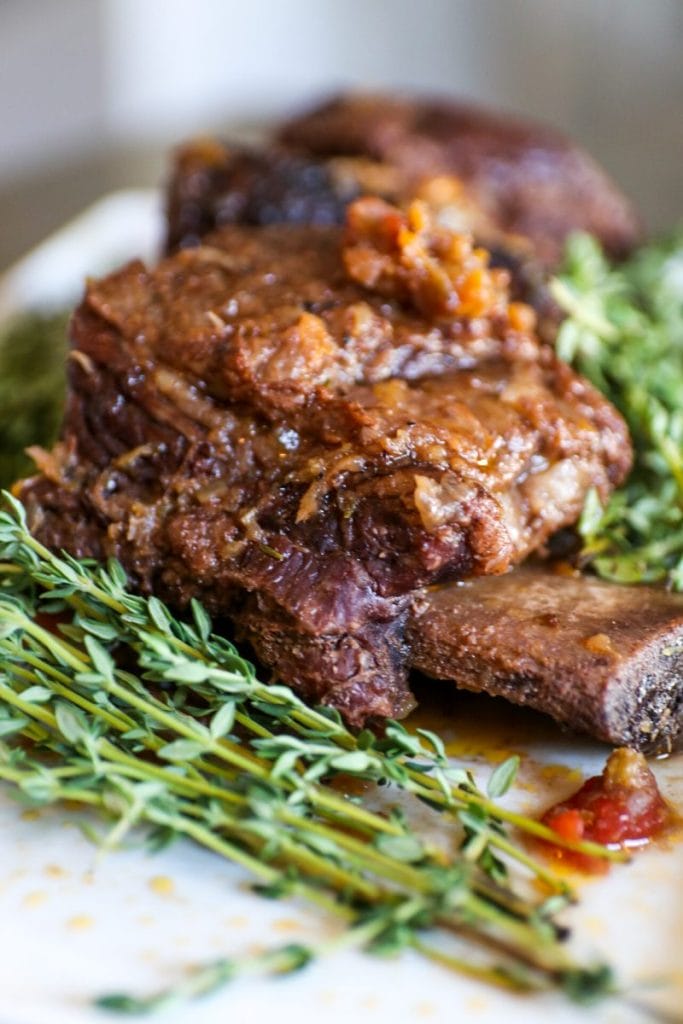 Ina Garten's Red Wine-Braised Short Ribs: Barefoot Contessa
JC's note: As mentioned above, this is an original recipe from the Barefoot Contessa. All credit is due to Ina for this creation -- I am merely admiring it and sharing it with y'all today. Ina: thank you for inspiring me through the years!
Enjoy Ina Garten's Red Wine-Braised Short Ribs? Check out my other recipes here!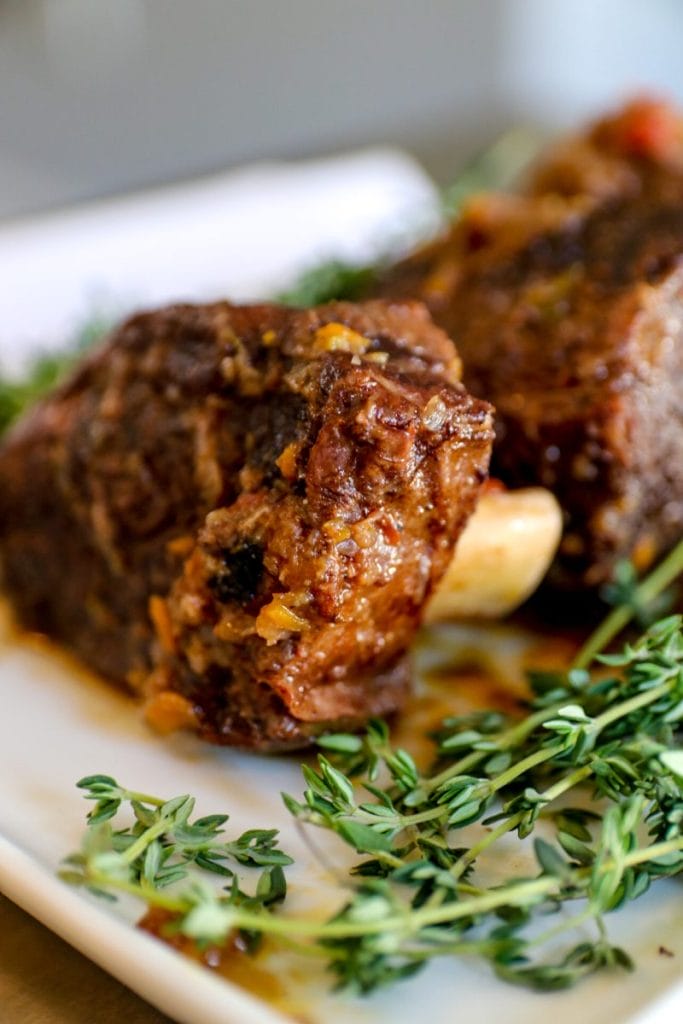 The Recipe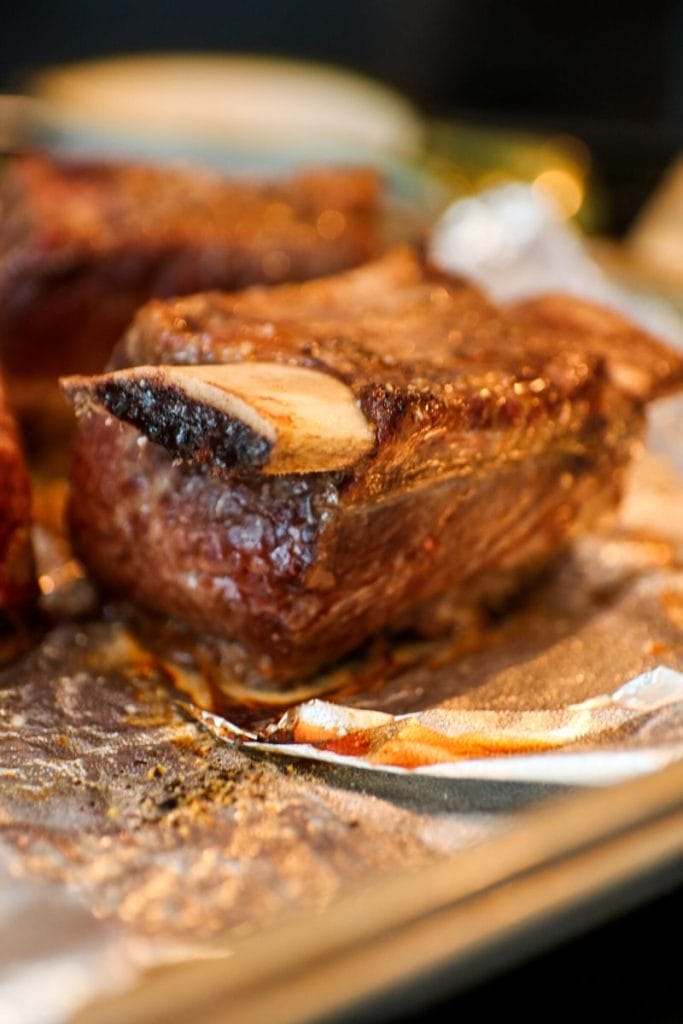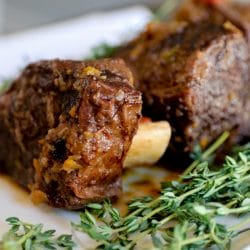 Ina Garten's Red Wine-Braised Short Ribs
There are no short ribs quite like the Barefoot Contessa's (Ina Garten's) Red Wine-Braised Short Ribs. Learn how to make them and you'll have your new favorite at-home dinner!
Ingredients
5

pounds

very meaty bone-in beef short ribs

3

cups

chopped leeks

white and light green parts

3

cups

chopped celery

2

cups

chopped yellow onions

2

cups

chopped unpeeled carrots

4

cups

beef stock

750

ml

Burgundy, Cotes du Rhone, Chianti, or other dry red wine

1

cup

canned crushed tomatoes

such as San Marzano

1

11.2-ounce bottle Guinness draught stout

1 ½

tablespoons

minced garlic

5 cloves

6

sprigs fresh thyme

tied with kitchen string

Good olive oil

Kosher salt and freshly ground black pepper

toasted baguette

for serving
Instructions
Preheat the oven to 425 degrees F. Place the short ribs on a sheet pan, brush the tops with olive oil, and sprinkle with 1 ½ tablespoons salt and 1 ½ teaspoons pepper. Roast for 20 minutes and remove from the oven. Reduce the temperature to 325 degrees F.

Meanwhile, heat ¼ cup olive oil in a large (12-inch) Dutch oven, such as Le Creuset, over medium heat. Add the leeks, celery, onions, and carrots and cook over medium to medium-high heat for 20 minutes, stirring occasionally. Add the garlic and cook for one minute. Add the wine, bring to a boil, lower the heat, and simmer over medium heat for 10 minutes, until the liquid is reduced. Add the stock, tomatoes, Guinness, thyme, 1 tablespoon salt, and 1 ½ teaspoons pepper.

Place the ribs in the pot, along with the juices and seasonings from the sheet pan. Bring to a boil, cover, and cook in the oven for one hour. Uncover and cook for one more hour, until the meat is very tender.

Remove the short ribs to a plate with a slotted spoon and discard the thyme bundle and any bones that have separated from the meat. Simmer the sauce on the stove for 20 minutes, until reduced. Skim some of the fat off the top and discard. Return the ribs to the pot, heat for 5 minutes, and taste for seasonings. Serve hot in shallow bowls, with a toasted baguette and extra sauce on the side.
Nutrition
Calories:
693
kcal
Carbohydrates:
26
g
Protein:
59
g
Fat:
29
g
Saturated Fat:
12
g
Polyunsaturated Fat:
1
g
Monounsaturated Fat:
12
g
Cholesterol:
163
mg
Sodium:
634
mg
Potassium:
1989
mg
Fiber:
5
g
Sugar:
10
g
Vitamin A:
8185
IU
Vitamin C:
18
mg
Calcium:
135
mg
Iron:
9
mg
Enjoy Ina Garten's Red Wine-Braised Short Ribs? Check out my other recipes here!
Very straightforward and immensely delicious -- I just know that y'all are going to adore Ina Garten's Red Wine-Braised Short Ribs!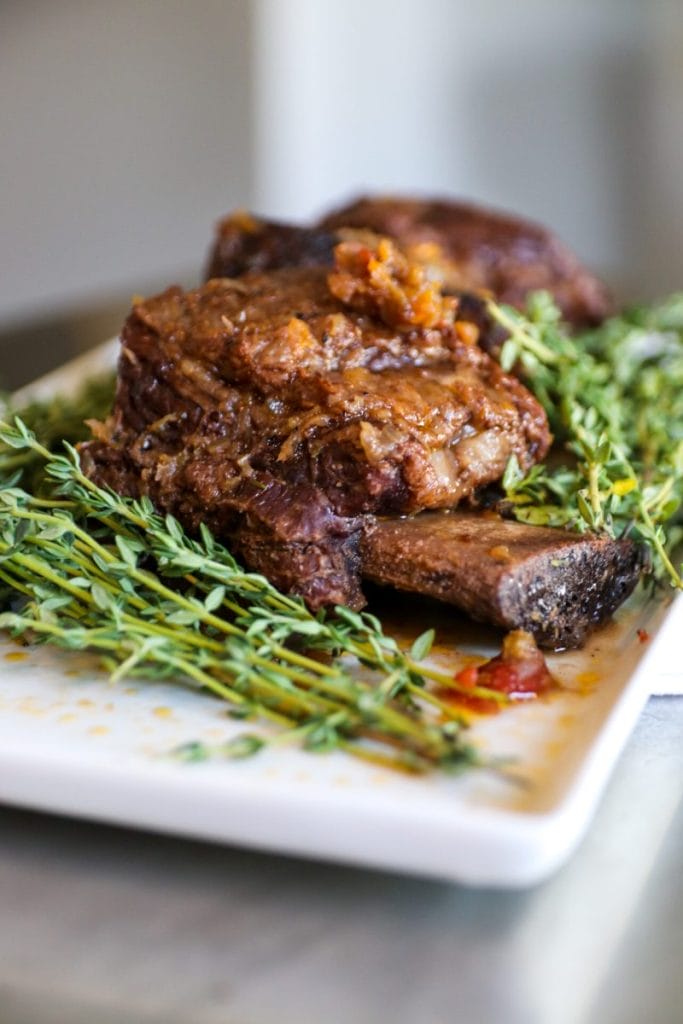 My best,
JC
Keep Up With JCP Eats
Thank you so much for visiting the blog today! I'd love to keep in touch via social media. You can follow my content on Instagram, Facebook, Pinterest, Tik Tok, Twitter, and LinkedIn. I also author a sister website to JCP Eats, Unabashedly Southern, on which I write about southern lifestyle. Read Unabashedly Southern here.
Enjoy Ina Garten's Red Wine-Braised Short Ribs? Check out my other recipes here!