Hey, y'all! Hear me out: the most misunderstood (and underestimated) food during the holidays = cranberries. I love them. And, while I'm professing my love, I'll confess: I even like the jellied cranberry sauce. However, that's neither here nor there. Today I'm excited to be sharing my favorite way to eat cranberries during the holiday season: my homemade Cranberry Relish. This has so much flavor and is the absolute perfect topping for both turkey and ham. You - and your loved ones - are going to love it!
Jump to Recipe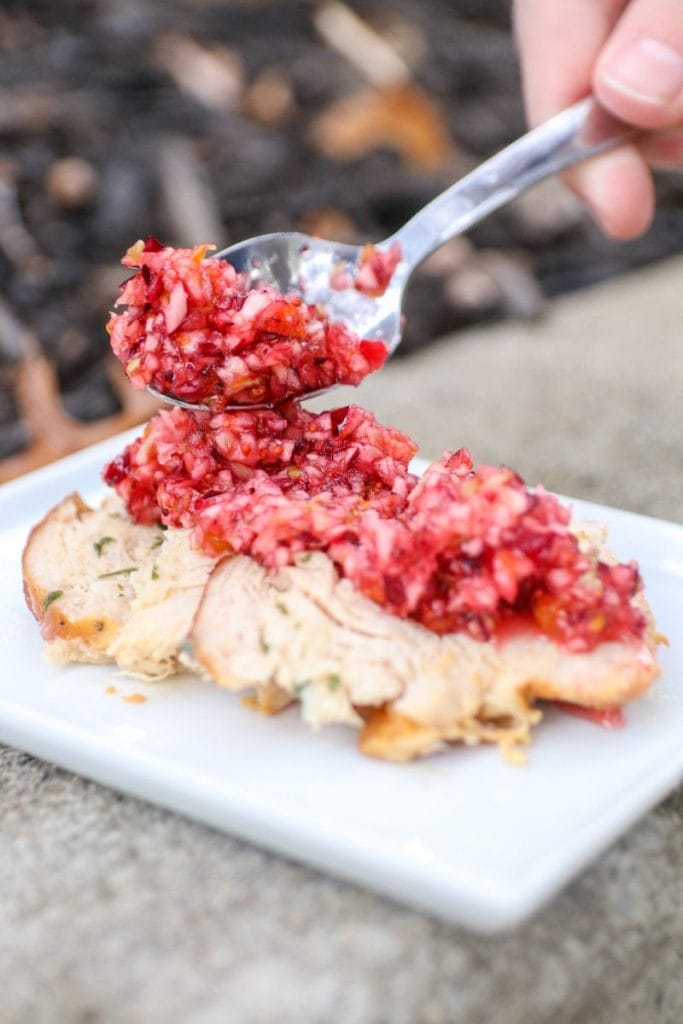 Cranberry Relish
Frequently Asked Questions
Do I need to use fresh cranberries for this?
100%. Fresh cranberries, unlike any other variety, have a lower water content. For the nature of this relish, you want the cranberries to be as dry as possible.
I'm unsure about the celery. Tell me more.
If you like celery, add it to the recipe. Impartial about celery? Add it to the recipe. Hate celery? You can absolutely omit it. The relish isn't over celery-forward. That said, the celery adds a wonderful flavor and texture to the relish. It truly is the secret ingredient!
Should I use fresh oranges?
I think using fresh oranges is preferred; that said, if you make sure to completely dry them/pat them down, you can use canned mandarin oranges.
What should I serve this on?
This cranberry relish is wonderful on both ham and turkey.
How long does this keep?
This is best consumed, in my opinion, in 24 hours. In the refrigerator, it will continue to produce more and more liquid as it sits; that said, it can be kept up to 3 days. It's so easy to make -- I recommend making it on the day of use!
How much in advance should I make this?
I'd recommend making it at least one hour ahead of time. This will allow all of the flavors to fuse together.
Can I freeze the cranberry relish?
I wouldn't recommend it due to the liquid content. I love being able to freeze food as to not waste; however, sadly, this is not one of those dishes.
Should I add a garnish to the relish?
You absolutely can! I'd recommend fresh cranberries or orange zest.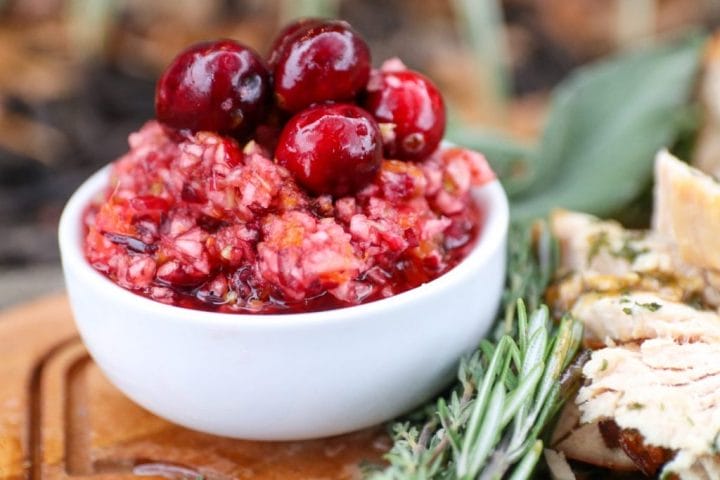 Ingredients, Shopping List: Cranberry Relish
Fresh cranberries: You'll most commonly find fresh cranberries next to other fresh berries in your local grocery store. If not there, look in the larger fresh produce refrigerator section (if berries are kept separately).
Apple: Choose the apple of your liking; that said, I most commonly use a tart green apple for this relish (Granny Smith). You'll need one.
Celery: You'll use 1-2 stalks, depending on size.
White Granulated Sugar: 1 cup will be used; be sure to always have sugar on-hand in the pantry, y'all!
Orange/Mandarin Oranges: 1 orange or 1 small can of mandarin oranges will suffice. I prefer using fresh, though you can substitute ¾ c. of mandarin oranges if you prefer. If you go that route, be sure to drain them and pat them very dry.
The Recipe
Love my Cranberry Relish? Check out the rest of my website here.
Cranberry Relish
Looking for the perfect topping for turkey or ham this holiday season? Look no further than this Cranberry Relish. It is absolutely divine!
Ingredients
12

oz.

fresh cranberries

washed and dried

1

c.

white granulated sugar

1

Granny Smith apple

cored and quartered

¾

c.

chopped celery

½

orange

cut, trimmed, seeds removed
Instructions
If you do not have a food processor, you can use your knife skills here. That said, a food processor will make this immensely easier.

Place cranberries in the food processor; pulse gently until coarsely chopped. You want the relish to have texture. Remove and place into large bowl.

Pulse the celery until coarsely chopped. Add to bowl with cranberries.

Pulse the Granny Smith apple until coarsely chopped. Add to bowl with cranberries and celery.

Pulse the orange 2-3 times or until chopped. Be gentle with the orange, as it is softer than previous ingredients. Add the orange to the bowl with cranberries, apple, and celery.

Add sugar to the cranberries, celery, apple, and orange. Stir until fully mixed and combined. Cover + refrigerate for a minimum of one hour.

Serve as a topping to your favorite holiday meat, such as ham or turkey.
Nutrition
Calories:
152
kcal
Carbohydrates:
39
g
Protein:
1
g
Fat:
1
g
Saturated Fat:
1
g
Polyunsaturated Fat:
1
g
Monounsaturated Fat:
1
g
Sodium:
19
mg
Potassium:
131
mg
Fiber:
3
g
Sugar:
35
g
Vitamin A:
156
IU
Vitamin C:
12
mg
Calcium:
17
mg
Iron:
1
mg
Love my Cranberry Relish? Check out the rest of my website here.
My best,
JC
Keep Up With JCP Eats
Thank you so much for visiting the blog today! I'd love to keep in touch via social media. You can follow my content on Instagram, Facebook, Pinterest, Tik Tok, Twitter, and LinkedIn. I also author a sister website to JCP Eats, Unabashedly Southern, on which I write about southern lifestyle. Read Unabashedly Southern here.