Hey, y'all!Roswell is a short drive from Kentucky, as it is a suburb of Atlanta. However, don't let the word suburb fool you - Roswell is a cultural oasis, full of history, art, shopping, and fabulous food! And if fabulous food is on your agenda, look no further than dining at Bistro VG -- one of Roswell's most acclaimed restaurants. Trust me: you won't be disappointed!
This post is in partnership with Bistro VG and Visit Roswell (Roswell CVB). Thank you all for supporting those that make JCP Eats possible. All opinions expressed are my own. Post originally posted September 2019, updated June 2021.
Dining At Bistro VG: Roswell, Georgia
About Bistro VG
Bistro VG - formally "Van Gogh's", hence the initials - defines its dining experience as progressive, contemporary, and uniquely French. I would like to amplify all of those sentiments.
The interior was simply stunning - whites, grays, and earth tones, which are my favorites. This made for a relaxing, yet elegant, dining experience.
Enjoy reading about dining at Bistro VG? Check out my other blog posts here!
And while Bistro VG is elegant by my standards, it is not stuffy, nor is it formal. The community table in the bar area alludes to the friendly nature of the restaurant and the owners, who were, by any standard, a joy and a half.
The setting + the flavors, complexity, and beauty of the dishes speak for themselves.
The Food
Jude and I had lunch at Bistro VG - and when I return to Roswell (as I am sure that I will!), I plan to have both dinner and high tea there.
To start our meal, we shared the Charred Mediterranean Octopus, which was served with bistro hummus, roasted red peppers, pickled red onions, arugula, and olive tapenade. Octopus is one of my favorite dishes - and it requires a high skill level to execute perfectly. Trust me when I say that you will not be disappointed in Bistro VG's rendition.
Enjoy reading about dining at Bistro VG? Check out my other blog posts here!
Next was my favorite course, the Burrata Salad. My favorite summer meal is comprised of heirloom tomatoes (give me a dozen, please!) and a piece (or two!) of burrata. I found Bistro VG's version to be perfectly balanced, simple, yet refined. Along with the burrata, the dish was comprised of heirloom tomatoes, arugula, pickled red onions, lemon juice, fleur de sel, balsamic, and extra virgin olive oil. Two thumbs up from me!
Enjoy reading about dining at Bistro VG? Check out my other blog posts here!
The main course? I couldn't resist George's Bank Scallops -- and I'm glad that I didn't. The perfectly-seared, oversized, gorgeous scallops were placed atop rock shrimp risotto, with bunashimeji mushrooms, a peppercorn sauce, and lobster oil. This dish was rich and decadent -- which is right up my alley!
I was told that I had to end my meal with the Warm Beignets. While it was a tough decision (not!), I decided that I must at least try them. Bistro VG's beignets are served with chocolate pots de creme and an orange marmalade.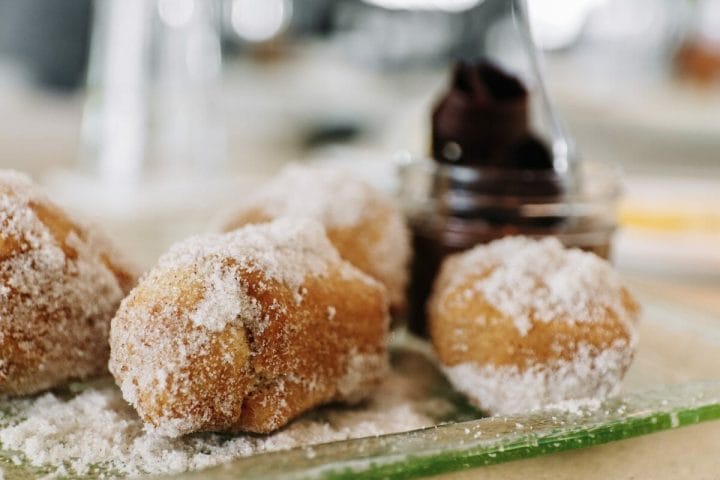 Visit Bistro VG
70 W. Crossville St., Roswell, GA 30075
Y'all come back now, ya hear?
My best,
JC
Keep Up With JCP Eats
Thank you so much for visiting the blog today! I'd love to keep in touch via social media. You can follow my content on Instagram, Facebook, Pinterest, Tik Tok, Twitter, and LinkedIn. I also author a sister website to JCP Eats, Unabashedly Southern, on which I write about southern lifestyle. Read Unabashedly Southern here.
Looking forward to dining at Bistro VG? Check out my other blog posts here!