Hey, y'all! I posted this recipe on my Instagram story last week and… y'all. went. crazy. Tomato pie is a staple southern dish and is, in all honesty, one of my favorite things that I make. It's perfect to make this time of year when you have garden-fresh tomatoes (the thought of tomato season coming to an end makes me sob, but let's not talk about it). I'm excited to share the recipe with y'all today for The Best Southern Tomato Pie!
The Best Southern Tomato Pie
Originally published July 2020, updated August 2021.
Enjoy The Best Southern Tomato Pie? Check out my other recipes here!
FAQ
Do you use any shortcuts?
A shortcut that I take with this recipe is purchasing pre-baked pie crusts. You can certainly make your own, but I am of the opinion that it is not worth the time or the effort. You'll want to purchase an already-baked crust because the pie will only be in the oven long enough to heat the pie + brown the topping.
Do I need to use garden fresh tomatoes?
This is definitely a summertime recipe. However, you can make it year-long. Just use the best tomatoes that you can find!
What Makes This The Best Version?
The differentiating factor between my tomato pie and other versions? Besides the addition of parmesan, the topping to my pie is a traditional pimento cheese. Try it and thank me later.
Enjoy The Best Southern Tomato Pie? Check out my other recipes here!
The Recipe
The Best Southern Tomato Pie
Not all tomato pies are created equal. You'll love this recipe for the Best Southern Tomato Pie. The secret? It's topped with pimento cheese!
Ingredients
2

pre-baked pie crusts

3-4

medium tomatoes

sliced

1

c

Duke's Mayonnaise

add slowly until desired consistency; can use more or less

8

oz

sharp cheddar

8

oz

monterey jack

8

oz

parmesan

4

oz

diced pimentos

drained

1/4

vidalia onion

grated

dijon mustard

for basting

minced onion

to taste

black pepper

to taste

kosher salt

to taste

sugar

to taste

basil

for garnish
Instructions
Preheat oven to 350F.

Slice tomatoes to desired thickness and lay them flat on a paper towel. Sprinkle with kosher salt and a little sugar; the salt will absorb moisture out of the tomatoes, while the sugar will cut the bitterness (it won't make the pie sweet). Place a second paper towel on top of the tomatoes and leave them for 5-10 minutes. Carefully apply pressure to get rid of remaining juice out of tomatoes; be careful to not squish tomatoes with applied force.

In a large bowl, combine sharp cheddar, monterey jack, parmesan, mayonnaise, diced pimentos, freshly-grated vidalia onion, minced onion, and black pepper. Be conservative when using the mayonnaise — you can always add more to reach your desired consistency. Mix well.

Using a brush or a spoon, apply a thin layer of Grey Poupon Dijon Mustard to the pie crust, completely covering.

Add a layer of tomatoes and top with pimento cheese mixture.

Bake for 20 minutes and broil for 2-4 minutes; remove pie from oven when the top is perfectly browned.
Nutrition
Sodium:
583
mg
Calcium:
383
mg
Vitamin C:
11
mg
Vitamin A:
751
IU
Sugar:
1
g
Fiber:
1
g
Potassium:
133
mg
Cholesterol:
42
mg
Calories:
366
kcal
Trans Fat:
1
g
Monounsaturated Fat:
8
g
Polyunsaturated Fat:
7
g
Saturated Fat:
11
g
Fat:
29
g
Protein:
14
g
Carbohydrates:
13
g
Iron:
1
mg
Enjoy The Best Southern Tomato Pie? Check out my other recipes here!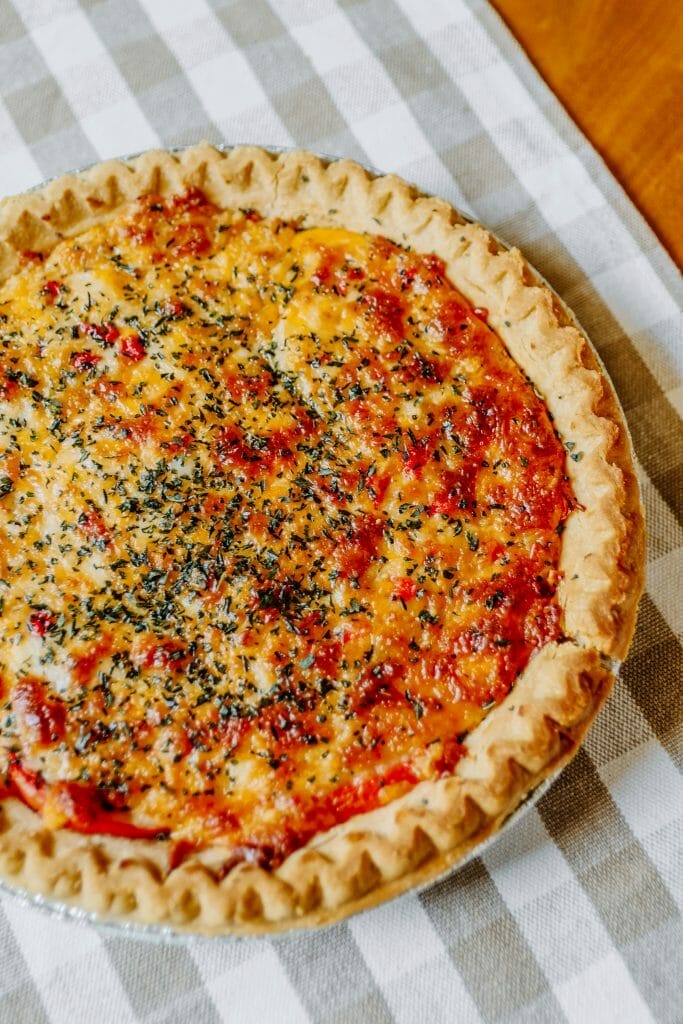 My best,
JC
Keep Up With JCP Eats
Thank you so much for visiting the blog today! I'd love to keep in touch via social media. You can follow my content on Instagram, Facebook, Pinterest, Tik Tok, Twitter, and LinkedIn. I also author a sister website to JCP Eats, Unabashedly Southern, on which I write about southern lifestyle. Read Unabashedly Southern here.