Hey, y'all! My friend Tanya made these and brought them over to my house recently; needless to say, I ate the entire jar and immediately asked how to recreate them. To my surprise, only three ingredients were needed! I know y'all are going to love these same-day pickles!
Jump to Recipe
Same Day Pickles With Only Three Ingredients
These pickles are ready in just a couple of hours; all you have to do is combine the ingredients in a mason jar, mix well, and allow them to get cold. The essential ingredient: Hendrickson's Original Sweet Vinegar & Olive Oil Dressing, which is located near the non-refrigerated dressings at your local grocery store.
If you are similarly-located to myself, you can find it at Kroger and Walmart. That said, if you are unable to find it, you can order it several places online (including Amazon). It will be cheaper to purchase in store; thus, to save some money, check there first!
FAQ
How long will these pickles last?
These pickles are best enjoyed a couple hours after making them. That said, for optimal quality, you should enjoy them in a 2-3 day period.
Can you use the marinade more than once?
Yes, and I recommend that you do so to make it even more affordable. For best quality, use the marinade/same jar up to 3 times. That said, I find that two times is the sweet spot.
What type of cucumber should I use?
You should use the cucumber of your preference -- they all work: American, Persian, English, etc. I used an American cucumber in this batch, but I actually prefer Persian cucumbers.
Enjoy my Same Day Pickles? Check out my other recipes here!
The Recipe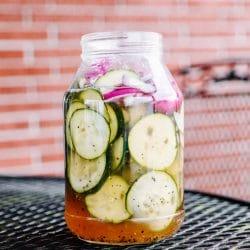 Same Day Pickles: Three Ingredients
Love pickles, yet hate the time commitment to making homemade ones? Look no further than my same day pickles, which feature only three ingredients. So easy!
Ingredients
2

American Cucumbers

thinly sliced

⅓

red onion

thinly sliced

1

bottle

Hendrickson's Original Sweet Vinegar & Olive Oil Dressing
Instructions
Place the thinly sliced cucumbers and red onions in a quart-sized mason jar.

Pour the entire bottle of Hendrickson's over the cucumbers + onions.

Shake + mix well (turn the mason jar over a couple of times); place in refrigerator.

The pickles are ready to eat in a couple of hours (just allow them to get cold); they will last for a couple of days + you can reuse the Hendrickson's dressing a couple of times to get the biggest bang for your buck!
Nutrition
Calories:
1101
kcal
Carbohydrates:
22
g
Protein:
4
g
Fat:
114
g
Saturated Fat:
21
g
Polyunsaturated Fat:
55
g
Monounsaturated Fat:
33
g
Sodium:
16
mg
Potassium:
888
mg
Fiber:
5
g
Sugar:
15
g
Vitamin A:
433
IU
Vitamin C:
22
mg
Calcium:
92
mg
Iron:
1
mg
Enjoy my Same Day Pickles? Check out my other recipes here!
Y'all come back now, ya hear?
My best,
JC
Keep Up With JCP Eats
Thank you so much for visiting the blog today! I'd love to keep in touch via social media. You can follow my content on Instagram, Facebook, Pinterest, Tik Tok, Twitter, and LinkedIn. I also author a sister website to JCP Eats, Unabashedly Southern, on which I write about southern lifestyle. Read Unabashedly Southern here.
Enjoy my Same Day Pickles? Check out my other recipes here!