Hey, y'all – Happy Day 2 of Blogmas! Blogmas is a series that I am bringing to the blog this year (and hopefully in subsequent years) that will provide y'all with a new recipe every day of December through Christmas. How fun is that? Today I'm excited to be sharing Ina Garten's (the Barefoot Contessa) recipe for the Perfect Roast Chicken – which is one of the most hyped recipes on the internet.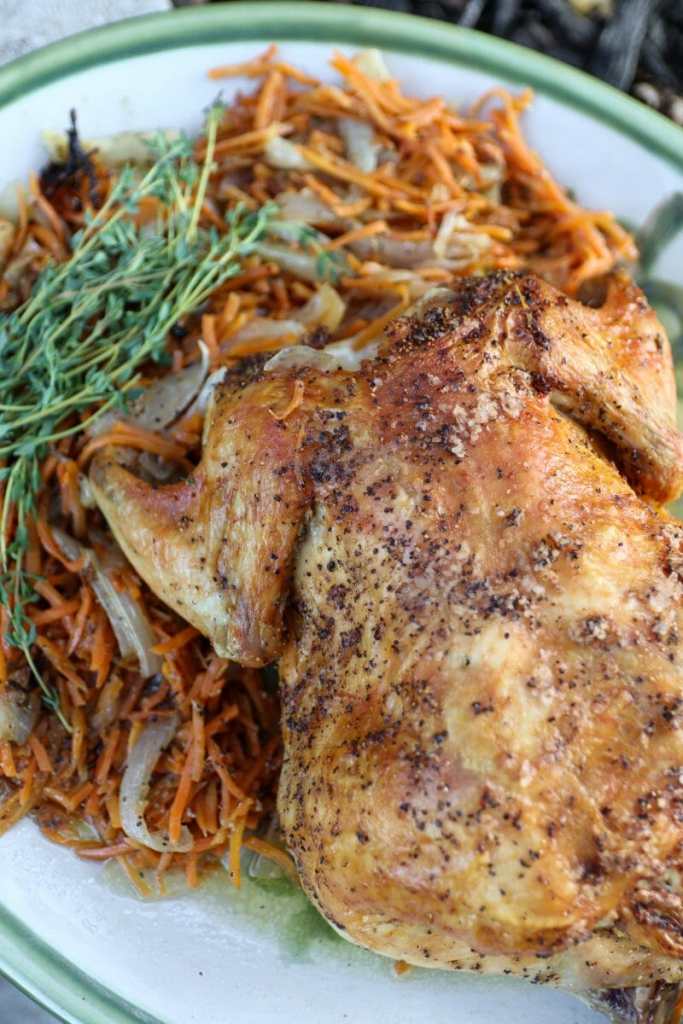 I'll say this after making it: it's worthy of the hype. It is, as the name suggests, perfect. However, if something is good enough for Ina + Jeffrey, it's good enough for me.
Please note that this is a recipe from Ina herself, for which I can take 0 credit, yet give all of the praise.
Ina Garten's (the Barefoot Contessa) Perfect Roast Chicken
Perfect Roast Chicken
Ingredients:
1 5- to 6-pound roasting chicken
Kosher salt
Freshly-ground black pepper
1 large bunch fresh thyme, plus 20 sprigs
2 tablespoons (1/4 stick) butter, melted
1 lemon, halved
1 head garlic, cut in half crosswise
4 carrots cut into 2-inch chunks
1 large yellow onion, thickly sliced
1 bulb of fennel, tops removed, and cut into wedges
Olive oil
Directions:
Preheat the oven to 425 degrees F.
Remove the chicken giblets. Rinse the chicken inside and out. Remove any excess fat and leftover pin feathers and pat the outside dry. Liberally salt and pepper the inside of the chicken. Stuff the cavity with the bunch of thyme, both halves of lemon, and all the garlic. Brush the outside of the chicken with the butter and sprinkle again with salt and pepper. Tie the legs together with kitchen string and tuck the wing tips under the body of the chicken. Place the onions, carrots, and fennel in a roasting pan. Toss with salt, pepper, 20 sprigs of thyme, and olive oil. Spread around the bottom of the roasting pan and place the chicken on top.
Roast the chicken for 1 1/2 hours, or until the juices run clear when you cut between a leg and thigh. Remove the chicken and vegetables to a platter and cover with aluminum foil for about 20 minutes. Slice the chicken onto a platter and serve it with the vegetables.
As Ina would say: "How easy was that?" In all seriousness, her Perfect Roast Chicken is one of the best things that I've made this year. I'll definitely be adding it into my rotation!
Y'all come back now, ya hear?
See you tomorrow!
My best,
JC
Enjoy Ina's recipe for Perfect Roast Chicken? Check out my recipes here!
Looking for holiday gift guides? Check out my sister site, Unabashedly Southern, for guides that cover every person in your life!