Hey, y'all! If you're here in Kentucky, you will know exactly what I mean when I say this: it's hotter than blue blazes! And while I love the heat and thrive in the summer, I do think that a cold, refreshing treat is necessary. Lookin' for a new one? Enter: my Homemade Pineapple Ice Cream Float with Ale-8-One!
This post is in partnership with Ale-8-One. Thank you for supporting those that make JCP Eats possible. All opinions expressed, as always, are my own. Originally published July 2020, updated August 2021.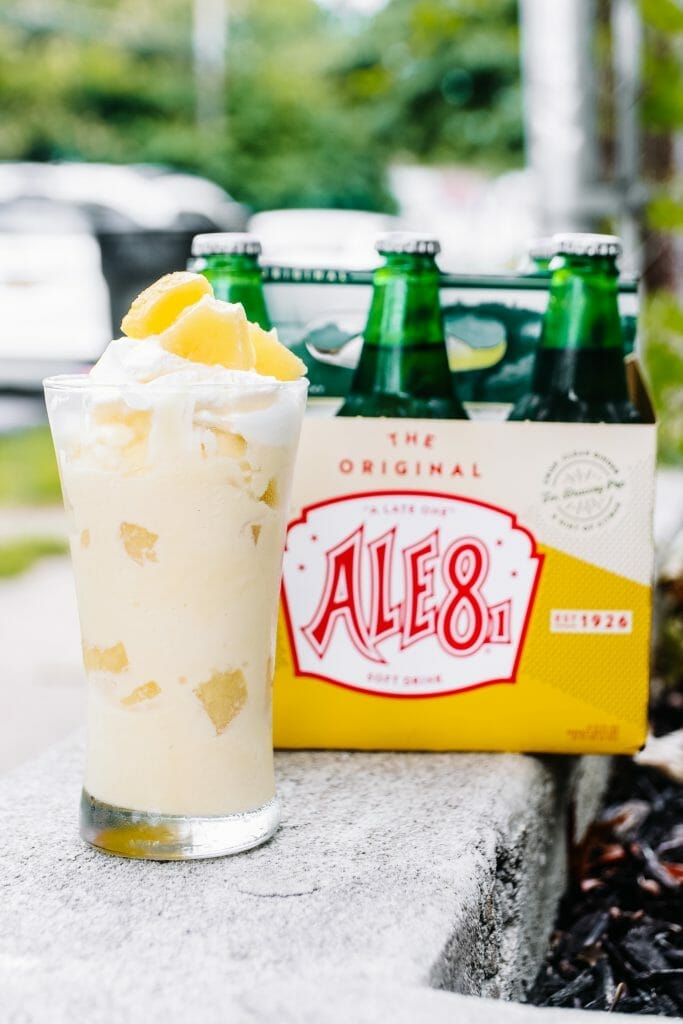 Homemade Pineapple Ice Cream Float with Ale-8-One
Y'all might remember my lemon Ale-8-One float from last year, which I still love; however, I think my version this year is even better! Much like my country ham recipe, I heavily leaned on the fantastic pairing of pineapple + the ginger profile of Ale-8. It's Write-Your-MeeMaw-Good, y'all.
About Ale-8-One:
Launched in July of 1926, Ale-8-One is the only Kentucky-invented soft drink still in existence. It was invented by G. L. Wainscott and was named via one of America's first slogan contests at the Clark County Fair. "A Late One" – the winning entry – was a pun adopted for its witty description. From that, a Kentucky legacy transpired.
If you know anything about me, you probably know this: Ale-8-One is a staple in my life. One sip takes me back to childhood, to hikes in the Red River Gorge, to singing "My Old Kentucky Home" at the Derby. It's simply the best -- and whether you enjoy it in its pure form or in my recipes, I know y'all will love it, too.
Enjoy my Homemade Pineapple Ice Cream Float? Check out my other recipes here!
Recipe:
The key to this recipe is the incorporation of both heavy whipping cream + half & half; egg yolks (they provide richness); and following the correct methodology. While it has a few steps, it truly takes just a couple of minutes to come together!
The Recipe
Enjoy my Homemade Pineapple Ice Cream Float? Check out my other recipes here!
Homemade Pineapple Ice Cream Float
Looking for a delicious summer treat? Try my Homemade Pineapple Ice Cream Float which features Kentucky-made Ale-8-One.
Ingredients
2

c

Heavy Whipping Cream

1

c

Half-and-Half

1

c

Sugar

5

Egg Yolks

2

cans of pineapple

1.5 c. of pineapple juice will be used in the ice cream, pineapple chucks will be layered into the float

1

teaspoon

Vanilla Extract

1

pinch

Salt

6

bottles

Ale-8-One

Whipped Cream

to taste
Instructions
Over low heat, combine heavy whipping cream, half-and-half, salt, and sugar; allow to simmer, stirring, until sugar is dissolved. This will take roughly 3-5 minutes.

Remove cream from heat, cover the pan, and steep for 5 minutes.

Put the cream back on the heat, allowing it to simmer.

Place egg yolks in a bowl & beat until smooth. Gradually add a little of the warm cream mixture to the eggs (up to roughly ½ c., a couple of tablespoons at a time). This brings the egg yolks up to appropriate temperature without cooking them. Don't skip this step!

Combine the warm egg mixture with the large pot of cream.

Add the pineapple juice and vanilla extract; cook/stir until the mixture coats the back of your spoon. This will take 3-5 minutes.

Transfer to a freezer-safe dish and freeze overnight.

The next day, add the pineapple ice cream to a mason jar. I like to layer it in four layers: ice cream, pineapple chunks, ice cream, pineapple chunks. Slowly pour Ale-8-One over the ice cream, making a float. If needed, add more as you eat. Top with whipped cream + pineapple chunks.

Enjoy!
Nutrition
Calories:
652
kcal
Carbohydrates:
77
g
Protein:
8
g
Fat:
38
g
Saturated Fat:
23
g
Polyunsaturated Fat:
2
g
Monounsaturated Fat:
10
g
Cholesterol:
266
mg
Sodium:
63
mg
Potassium:
475
mg
Fiber:
4
g
Sugar:
67
g
Vitamin A:
1700
IU
Vitamin C:
145
mg
Calcium:
155
mg
Iron:
1
mg
Enjoy my Homemade Pineapple Ice Cream Float? Check out my other recipes here!
There are many ways to enjoy a Kentucky summer treat at home; my hope is that y'all will start by making this ice cream + stocking up on Ale-8-One from your local retailer (note: I usually buy mine at Kroger!).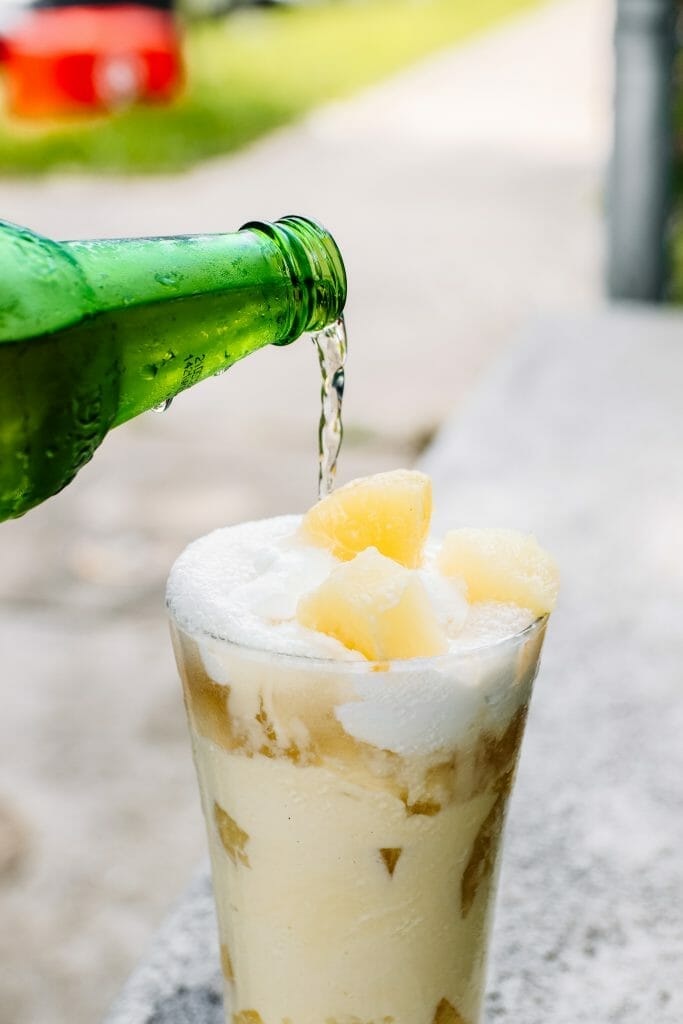 My best,
JC
Keep Up With JCP Eats
Thank you so much for visiting the blog today! I'd love to keep in touch via social media. You can follow my content on Instagram, Facebook, Pinterest, Tik Tok, Twitter, and LinkedIn. I also author a sister website to JCP Eats, Unabashedly Southern, on which I write about southern lifestyle. Read Unabashedly Southern here.
Enjoy my Homemade Pineapple Ice Cream Float? Check out my other recipes here!