Hey, y'all! Happy Day 10 of Blogmas! Blogmas is a series that I am bringing to the blog this year (and hopefully in subsequent years) that will provide y'all with a new recipe every day of December through Christmas. How fun is that? Today I'm excited to be sharing one of Jude's signature recipes with a Kentucky twist: Granny's Southern Pecan Pie with Rivulet Pecan Liqueur. Thank you, Rivulet, for sponsoring this post.
When I tell y'all that this is "write your MeeMaw good"… believe me. Because it is.
Tips For Making Granny's Southern Pecan Pie
One thing to note: the base recipe for this pie is foolproof. It has been enjoyed by many Southern Kentuckians throughout the decades. She's famous for it — and with good reason.
A tip for making this pie? Use a pre-made pie crust. I know, I know. Homemade pie crust is fabulous. However, I think a good quality frozen crust is worthy of skipping that step.
Secondly, adding the Rivulet Pecan Liqueur takes this pie to the next level. It deepens the pecan flavor, making the pie more decadent and rich. It also provides a nuttier balance to the sweet ingredients. Rivulet is both fabulous to drink + cook with!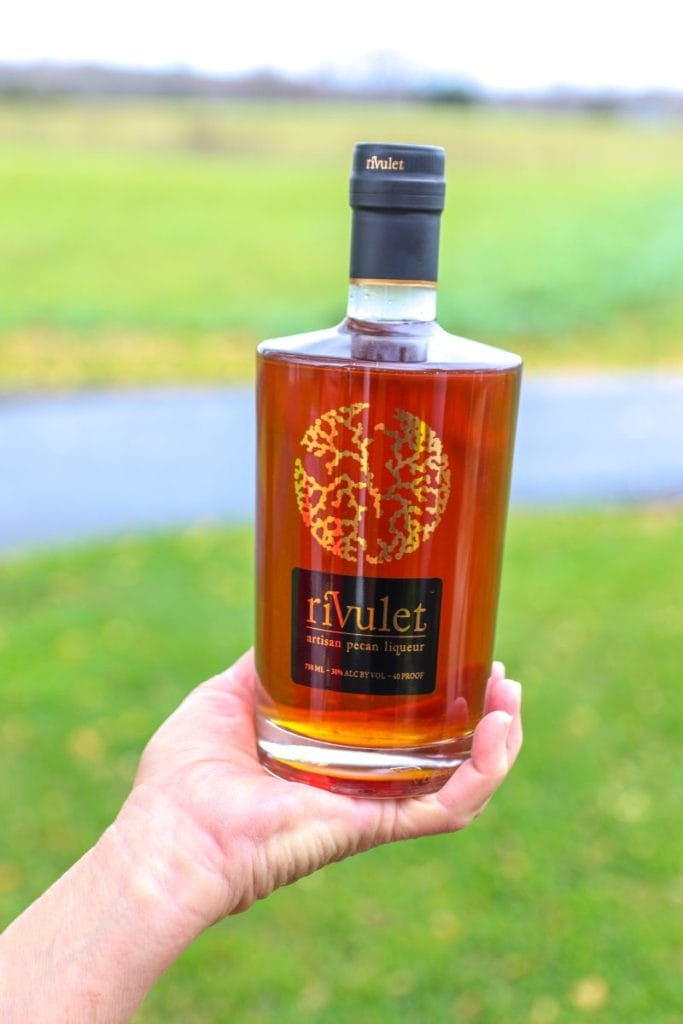 About Rivulet Pecan Liqueur
Rivulet® Artisan Pecan Liqueur is handcrafted in Louisville, KY. Rivulet starts with a 2-year-old, barrel-aged brandy. They then use a proprietary process to obtain the exquisite pecan essence, which I know y'all will love. It's a deep flavor — one that is signature to the brand — and I can't get enough of it. I also love that it's local!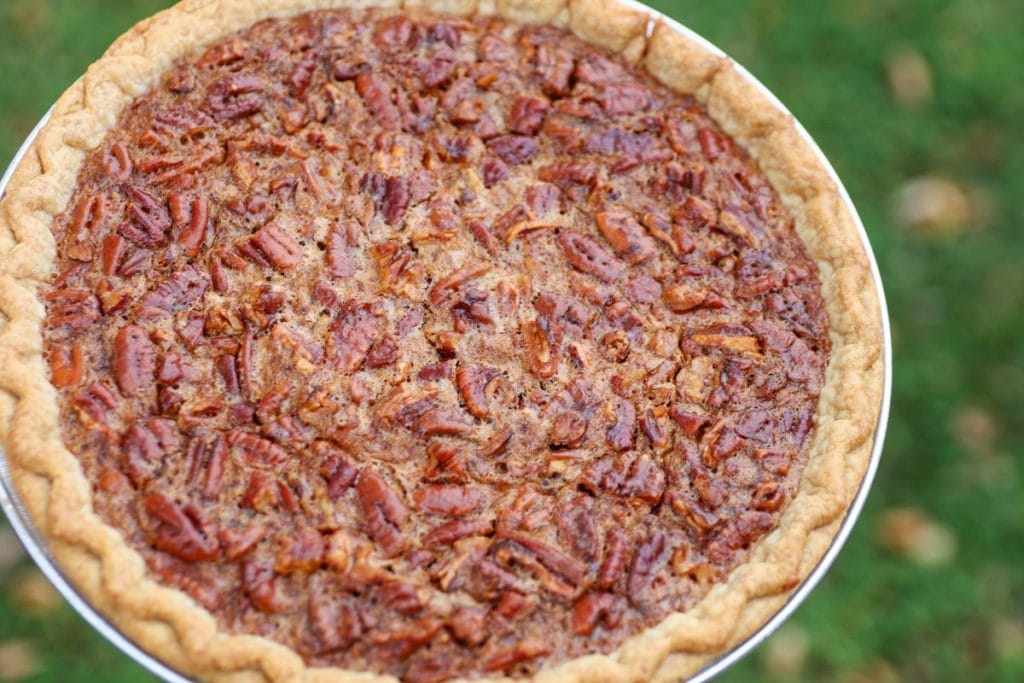 Granny's Southern Pecan Pie With Rivulet Pecan Liqueur
Granny's Southern Pecan Pie
1 pre-made pie crust, frozen, deep dish (unbaked)
1 c. pecans, chopped
2 tbsp. Rivulet Pecan Liqueur
3 eggs
1 c. brown sugar + 1 tbsp. flour, mixed together
2/3 c. white Karo syrup
1/2 stick of butter, unsalted, melted
1 tbsp. vanilla (I prefer a heavy handed tablespoon, allowing it to overflow the measuring spoon into the mixture)
1/4 tsp. kosher salt
Directions:
Preheat oven to 400F.
Combine all dry ingredients and mix. Add in wet ingredients and incorporate well. Beat the mixture until it turns caramel in color.
Pour into the pie crust and bake for 15 minutes on the bottom rack (tip: put an empty cookie sheet in the top rack to keep the crust from burning). Reduce heat to 350F and bake for another 40 minutes.
Serve warm and enjoy!
Where To Purchase Rivulet Pecan Liqueur
You can purchase Rivulet Pecan Liqueur via local retailers, along with finding it in bars/restaurants. To find out where you can buy it, click here. Also, in adherence to social distancing in the midst of the pandemic, you can opt to have it delivered via a spirits delivery service.
I know y'all are going to love this recipe!
Y'all come back now, ya hear?
See you tomorrow!
My best,
JC
Enjoy my recipe for Granny's Southern Pecan Pie With Rivulet Pecan Liqueur? Check out my other recipes here!
Looking for holiday gift guides? Check out my sister site, Unabashedly Southern, for guides that cover every person in your life!