Hey, y'all! I'm excited to be sharing my recipe for Citrus Slow Cooker Chicken -- this is the perfect recipe to make at the beginning of the week and to repurpose in a multitude of ways. Whether it's dinner for the family or meal prep, I know y'all are going to love it!
This post was kindly sponsored by Sunkist Delite® Mandarins; all opinions expressed, as always, are my own. Post originally published April 2020, updated July 2021.
Citrus Slow Cooker Chicken with Sunkist Citrus
I set out to make the easiest, most flavorful Slow Cooker Shredded Chicken for y'all - and I was amazed at the amount of meals that I created with a very small investment! The goal was to create a protein that could be eaten by itself, on salads, or incorporated in many dishes.
Cara Cara Oranges
The perfect balance of flavors comes from the incorporation of Sunkist citrus + seasonings. The addition of citrus elevates the flavor and complexity of a dish, while also having health benefits.
For this chicken, I used Sunkist Cara Cara Oranges, which offer the most Vitamin C of the Sunkist® citrus varieties, with 100% of the recommended daily intake in just one orange. They also have key nutrients like folate, fiber, and potassium in every bite. They look like Navel oranges on the outside, yet have a rich, pink hue inside due to the presence of the antioxidant, lycopene -- they are very sweet + flavorful. It is no wonder Sunkist calls this The Power Orange!
Enjoy my recipe for Citrus Slow Cooker Chicken? Check out my other recipes here!
Sunkist is a citrus cooperative made up of thousands of California and Arizona growers for over 125 years – since 1893, to be exact. To me, that means that they are a family of farmers that respect and depend on one another, uniting to share that special California-sunshine and high-quality citrus throughout the world. Sunkist believes in the importance of the individual farmer, which is something that I very much relate to, as I have deep roots in the farming industry here in my neck of the woods in Kentucky.
Other Recipes With Citrus
You can also find this recipe (and a plethora of other great recipes!) on the Sunkist site here ! 
The Recipe
Citrus Slow Cooker Chicken
Looking for the perfect meal prep recipe? Look no further than my Citrus Slow Cooker Chicken!
Ingredients
4

Boneless Skinless Chicken Breasts

2

Sunkist Cara Cara Oranges

1.5

c.

Chicken Broth

2

tbsp.

Dijon Mustard

Lemon Pepper Seasoning

to taste

Garlic Powder

to taste

Onion Powder

to taste

Kosher Salt

to taste

Black Pepper

to taste
Instructions
Slice one Sunkist Cara Cara orange and line the bottom of the slow cooker.

Place the boneless, skinless chicken breasts on top of the sliced orange.

Liberally season with lemon pepper seasoning, garlic powder, onion powder, kosher salt, and black pepper. Add 2 tablespoon of dijon mustard on top of the chicken and spread evenly.

Slice another Sunkist Cara Cara orange and place on top of the seasoned chicken.

Add 1.5 c. of chicken broth.

Cook on high for 3 hrs (6-6.5 hrs on low); ensure that the chicken has reached an internal temperature of 165F and is tender.

Remove chicken from the slow cooker, shred, and enjoy!
Nutrition
Calories:
298
kcal
Carbohydrates:
9
g
Protein:
49
g
Fat:
6
g
Saturated Fat:
1
g
Polyunsaturated Fat:
1
g
Monounsaturated Fat:
2
g
Trans Fat:
1
g
Cholesterol:
146
mg
Sodium:
673
mg
Potassium:
982
mg
Fiber:
2
g
Sugar:
7
g
Vitamin A:
222
IU
Vitamin C:
38
mg
Calcium:
46
mg
Iron:
1
mg
Enjoy my recipe for Citrus Slow Cooker Chicken? Check out my other recipes here!
FAQ
What type of citrus did you use for this recipe?
I used Cara Cara Oranges!
What are the best ways to repurpose this chicken?
I like using this Citrus Slow Cooker Chicken in my chicken enchiladas, in citrus chicken tacos, and in citrus chicken tostadas.
Using The Chicken During The Week: Other Recipes
I think y'all - and your families! - will love this chicken. Though you can use it in many forms, I wanted to show y'all three of my favorite ways to use it:
My homemade Chicken Enchiladas (my favorite!):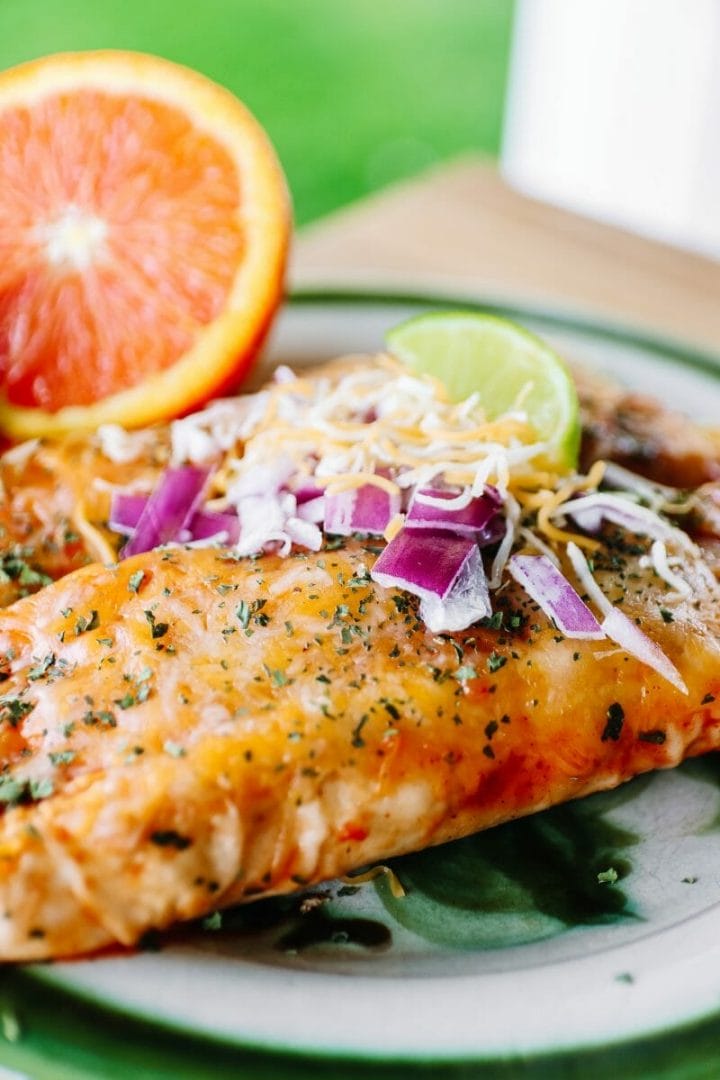 Enjoy my recipe for Citrus Slow Cooker Chicken? Check out my other recipes here!
Citrus Chicken Tacos:
Citrus Chicken Tostadas:
Y'all come back now, ya hear?
My best,
JC
Keep Up With JCP Eats
Thank you so much for visiting the blog today! I'd love to keep in touch via social media. You can follow my content on Instagram, Facebook, Pinterest, Tik Tok, Twitter, and LinkedIn. I also author a sister website to JCP Eats, Unabashedly Southern, on which I write about southern lifestyle. Read Unabashedly Southern here.
Enjoy my recipe for Citrus Slow Cooker Chicken? Check out my other recipes here!