Hey, y'all! There are few things more southern – or more decadent – than a hearty potato dish. After combing through the site the other day, I realized that I had never shared the recipe for my cheddar and bacon twice-baked southern potatoes — and for that, I apologize! I'm tickled pink to post this for y'all today and I just know y'all are going to love them!
Cheddar and Bacon Twice-Baked Southern Potatoes
Cheddar and Bacon Twice-Baked Southern Potatoes
Ingredients:
4 baking potatoes, medium-sized
1 c. sharp cheddar cheese, grated
4 pieces of bacon, cooked and chopped
1/2 c. butter
1/2 c. sour cream
1/3 block cream cheese
1/4 c. milk
Kosher salt, to taste
Black pepper, to taste
Garlic powder, to taste
Green onions, for garnish
Canola oil
Directions:
Preheat oven to 400F.
Rub potatoes with oil and cook until fork tender, roughly 50 minutes.
In a large bowl, combine butter, bacon, sour cream, cream cheese, milk, kosher salt, black pepper, and garlic powder. Mix until well-combined.
Remove potatoes from the oven and allow them to cool for 10-15 minutes. Reduce oven temperature to 325F.
Cut warm potatoes lengthwise and carefully scoop out the interior into the bowl with the filling mixture. Add half of your cheese. Mix well (I recommend using a potato masher). Add more salt, pepper, and garlic powder to taste.
Spoon potato mixture back into the potato skins, top with the remaining cheese, and bake for approximately 15 additional minutes. Potatoes should be warmed all the way through and the cheese should be melted. I like to broil mine for 1 minute before taking them out of the oven.
Top with green onions.
Enjoy!
How sinfully delicious is that, y'all? They are write-your-MeeMaw good!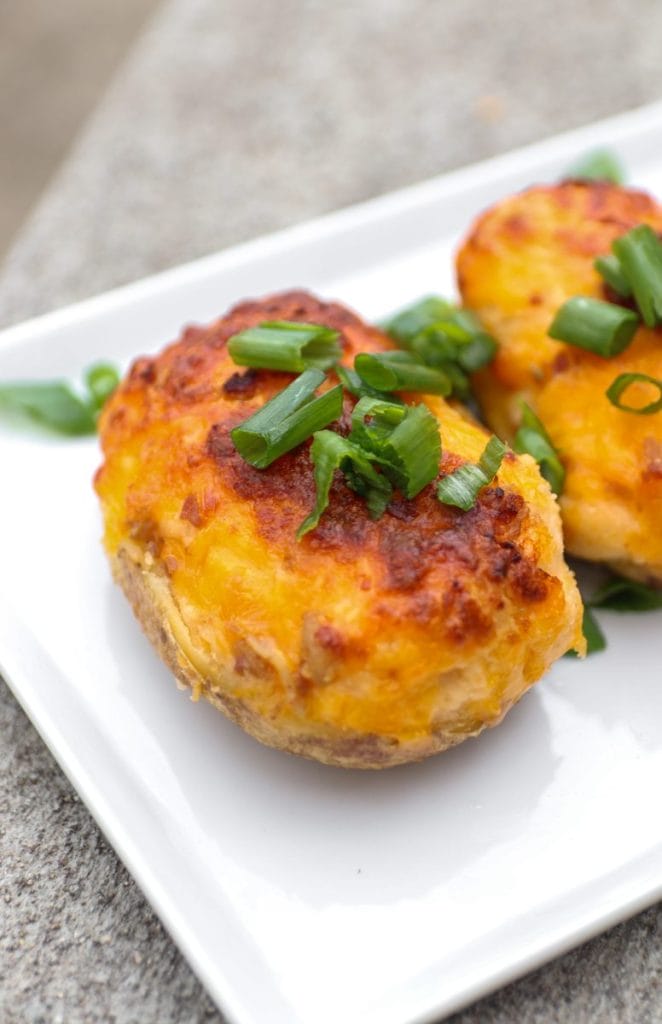 Y'all come back now, ya hear?
My best,
JC
Enjoy my recipe for Cheddar and Bacon Twice-Baked Southern Potatoes? Find my other recipes here!
Check out my sister site, Unabashedly Southern, for lifestyle content!