Hey, y'all! I love bringing Super Bowl Recipes to y'all each year – and as you are planning for the big game this year, I hope that you will consider making my newest recipe: Beer Cheese Hamburger Sliders! These are easy, jam-packed with flavor, and I just know that y'all will love them. PS: Are you rooting for Kansas City or Tampa Bay?
Beer Cheese Hamburger Sliders
This recipe will make roughly 10-12 sliders; to best fit the size of the burger patty, purchase slider buns in the bread section of your grocery store. You'll also want to have toothpicks on hand, as it helps hold them together. My last tip? Dress these burgers as you please: tomatoes, bacon, onions, pickles… the best topping choice is the one that you will most enjoy!
Beer Cheese Hamburger Sliders
Ingredients, Burgers:
1 lb. ground beef
1/2 c. breadcrumbs
1.5 tbsp. Worcestershire sauce
1.5 tbsp. dijon mustard (I recommend Grey Poupon)
1 egg
1.5 tsp. onion powder
1.5 tsp. garlic powder
Kosher salt, to taste
Black pepper, to taste
1/4 stick of butter
10-12 slider buns
Toppings of your choice: I like to use lettuce and horseradish pickles. Tomatoes, onions, and bacon would also be wonderful on this!
Ingredients, Beer Cheese Sauce
8 oz. Original Hall's Snappy Beer Cheese (1 container)
4 tbsp. milk
Directions:
In a mixing bowl, combine ground beef, breadcrumbs, Worcestershire sauce, dijon mustard, egg, onion powder, garlic powder, kosher salt, and black pepper. Mix well.
Using an ice cream scoop, shape the sliders into small, evenly-sized balls.
In a skillet over medium heat, melt butter. Add in sliders and press down with the back of your spatula until flat. Cook + flip until sliders have reached your desired level of doneness.
For the beer cheese sauce, add one container of Original Hall's Snappy Beer Cheese into a saucepan over low-medium heat and add 4 tbsp. of milk. Stir constantly until melted, being careful to not let the sauce burn. Roughly 1/2 of the sauce will be used on the sliders, the other half is perfect for dipping!
Prepare the buns + toppings. Place slider on bottom bun, top with beer cheese sauce, add desired toppings, and hold it together with a toothpick.
Serve warm and enjoy!
How easy is that, y'all? I know you're going to love my Beer Cheese Hamburger Sliders!
The Flavor Profile of Hall's Beer Cheese
The unique flavor of Hall's Beer Cheese begins with aged Wisconsin sharp cheddar cheese and finishes with a bit of spice that provides the "snap". How they achieve the exact spiciness and texture of the beer cheese spread remains a secret, adding to the allure of the brand. I've loved it my entire life!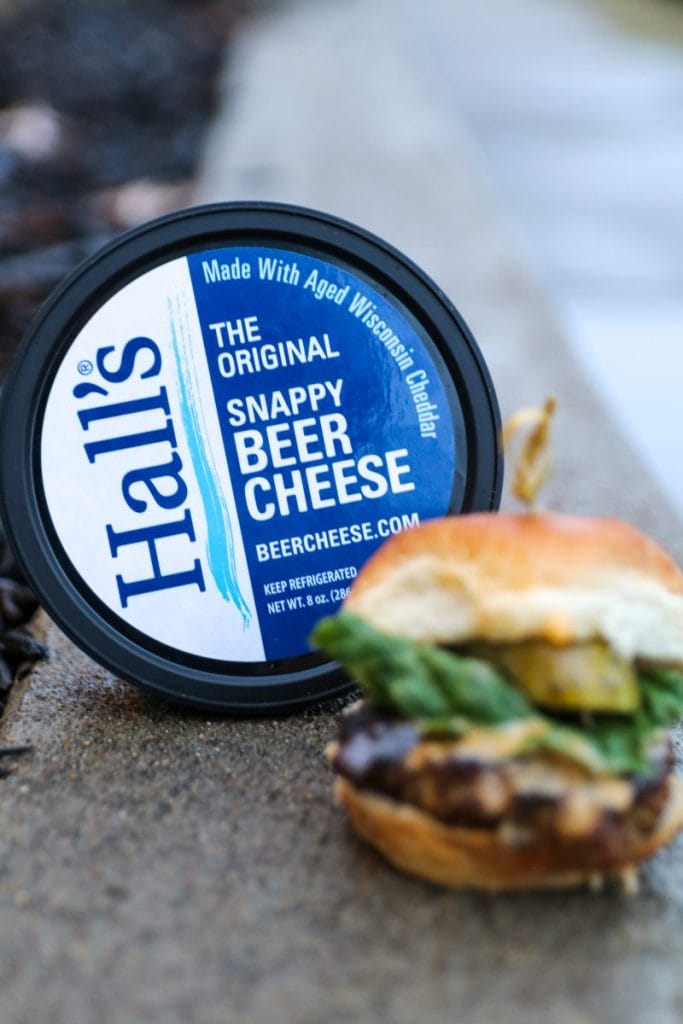 Where To Buy
You can purchase Hall's Beer Cheese in Kentucky at Kroger, Liquor Barn, and select Sam's Club stores.
To visit the store locator, click here.
Not in Kentucky? Purchase online here!
About Hall's Beer Cheese
As the name implies, it's the combination of two of man's most important achievements: beer and cheese. Add in savory spices and a little heat and you have The Original Hall's Snappy Beer Cheese recipe developed in Central Kentucky more than half a century ago.
Kentucky has a unique culinary heritage of innovation that has produced some of the world's most beloved flavors: Kentucky Fried Chicken, bourbon, and beer cheese. Legend has it that this unique snack was developed by Joe Allman for his cousin Johnny Allman to introduce in his various restaurants on the Kentucky River. Johnny allegedly lost one restaurant, along with his recipes, to Carl Johnson in a card game in the early 1960s. After Mr. Johnson passed away, George and Gertrude Hall acquired the restaurant and its recipes in 1965. Since that time, Hall's On the River has been a mainstay in the Central Kentucky dining scene. 
Y'all come back now, ya hear?
My best,
JC
Enjoy my recipe for Beer Cheese Hamburger Sliders? Find my other recipes here!
Check out my sister site, Unabashedly Southern, for lifestyle content!
Thank you, Hall's Beer Cheese, for sponsoring this post.