Hey, y'all! Ever wonder Where To Have Date Night In Louisville Kentucky? Lately, I've been giving the same answer each and every time: Swizzle, the top-notch restaurant located at the top of the historic Galt House Hotel. It's described as sexy, swanky, and social -- what more could one want out of a date?
Where To Have Date Night In Louisville Kentucky: Swizzle
Things To Consider When Choosing A Date Night Location
Maybe this is biased advice, as it's coming from a food writer, but choosing the right restaurant for your date is a make-or-break decision. What are some things to consider in making the right choice?
Why Swizzle Is The Perfect Date Night Spot in Louisville, KY
Referencing the above recommendations, Swizzle is a textbook spot for date night. Whether it's a first date, a mid-week date, or a meal to commemorate a special occasion, I know Swizzle will make any partner smitten.
The atmosphere at Swizzle is second to none in Louisville. For one, you get the allure of being Downtown. Maybe it's the country boy in me, but that's always a fun outing by my standard. Second, the atmosphere is not loud -- you can have intimate conversation without having to raise your voice, strain your ears, or without the fear of having to repeat yourself constantly.
I think you'll also find the menu at Swizzle to be the perfect choice for a night on the town. Whether you're looking for a high-end steak, seafood, pork, chicken, or delicious vegetables -- there's something for everyone. Oh, and there are cocktails. Lots of delicious, mouthwatering cocktails.
Lastly, date night is to be romantic. Warm. Inviting. Dine at Swizzle and you'll know what I mean when I say that it's all of those things and more.
Enjoy reading about Where To Have Date Night In Louisville, Kentucky? Read more blog posts here.
About Swizzle
A proclaimed "retro-style supper club for the modern diner", Swizzle hearkens back to a time when patrons could enjoy an enticing supper, fine cocktails, and good company whenever they wanted.
Swizzle serves up prime steaks, sustainable seafood, local produce, and head-spinning cocktails – all surrounded by the best river and city views in Louisville.
Swizzle boasts twin revolving floors (the only restaurant in the country to have two!), an open concept kitchen, and an expansive bar. Located on the 25th floor of the West Tower of the Historic Galt House Hotel, to be short: it's an exemplary dining experience.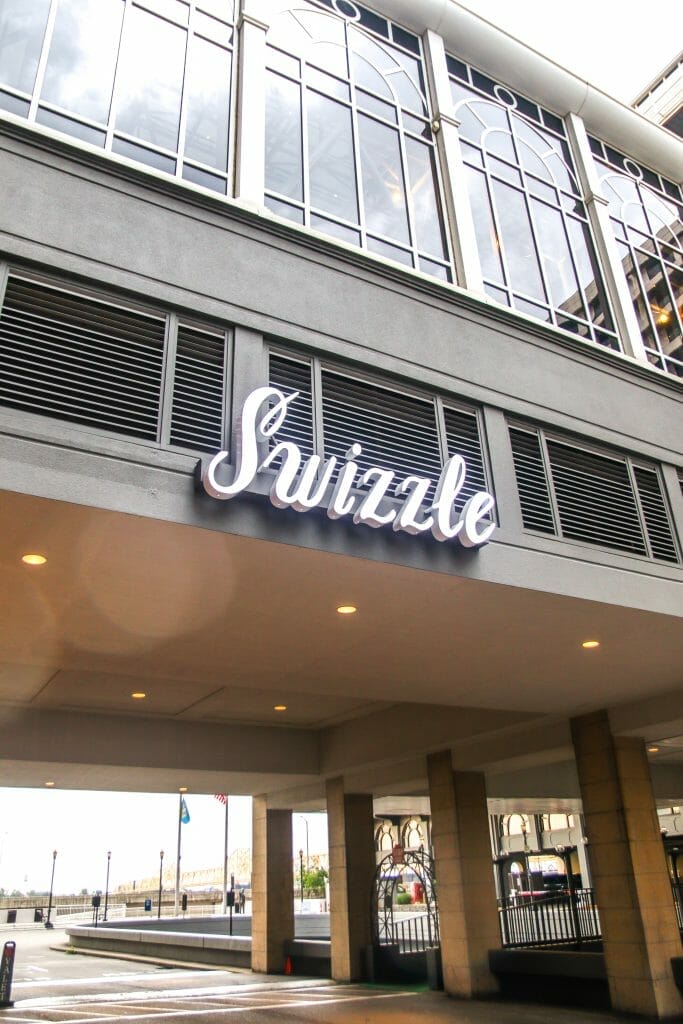 Y'all come back now, ya hear?
My best,
JC
Keep Up With JCP Eats
Thank you so much for visiting the blog today! I'd love to keep in touch via social media. You can follow my content on Instagram, Facebook, Pinterest, Tik Tok, Twitter, and LinkedIn. I also author a sister website to JCP Eats, Unabashedly Southern, on which I write about southern lifestyle. Read Unabashedly Southern here.
Enjoy reading about Where To Have Date Night In Louisville, Kentucky? Read more blog posts here.