Hey, y'all! Y'all know that I love to throw a good party -- especially a Kentucky Derby Party. But, a Bachelorette Party? This was a first for me, yet an experience that I will always cherish. If you're a local, have you ever Wondered Where To Have A Bachelorette Party In Downtown Louisville? I'm here to tell you that there's no better place than the newly-renovated, historic Galt House Hotel.
This post is in partnership with the Galt House Hotel. Thank you for supporting those that make JCP Eats possible. All opinions expressed, as always, are my own. Originally posted October 2020, updated September 2021.
Where To Have A Bachelorette Party In Downtown Louisville
If you're not new around here, you've heard me discuss the Galt House Hotel's massive renovations. When I say massive, I mean massive. It's stunning. Modern. Luxurious. Yet still, in an amazing way, captures the classic essence that the Galt House Hotel has always embodied.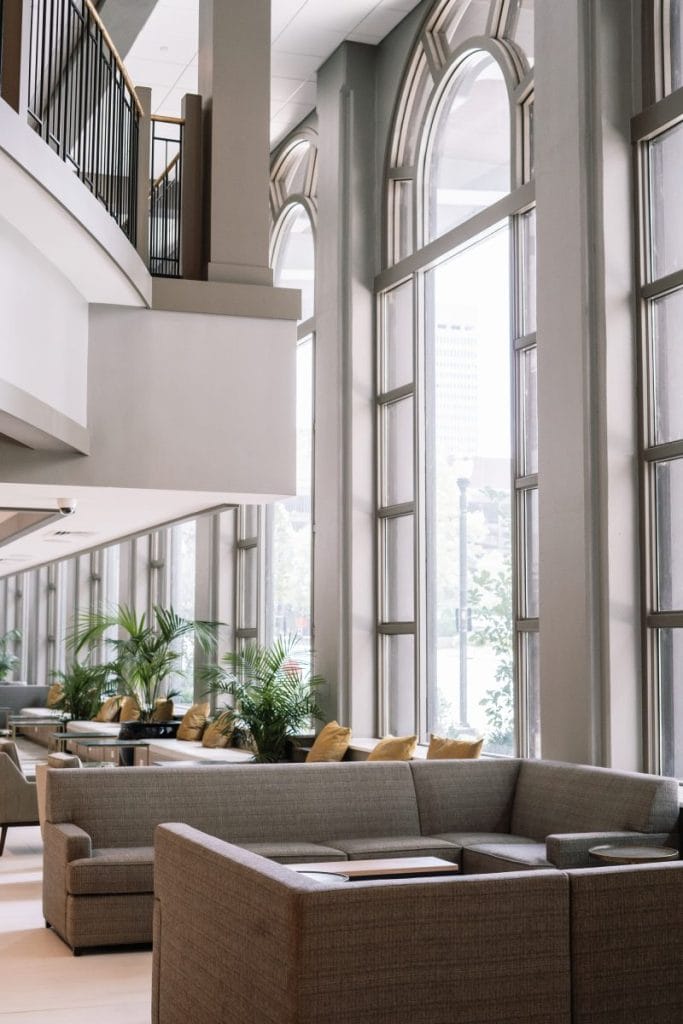 The Perks of the Galt House Property
The Galt House Hotel is conveniently located in Downtown Louisville. Close to many attractions, bars, and restaurants, it's the perfect "home base" for a weekend celebrating the bride-to-be. However, I'd argue that the biggest competitive advantage is the fact that you truly wouldn't have to leave the Galt House for much, as it is an all-inclusive property.
Dining At The Galt House
Want to dine? Look no further than breakfast/lunch/dinner at Walker's Exchange or a fabulous dinner at Swizzle, the Galt House's newest concept.
Walker's Exchange offers rich, delicious southern cuisine via breakfast, lunch, dinner, and a Sunday brunch. The restaurant itself is bright, modern, yet extremely comfortable. An oversized oven is the focal point of the kitchen and your mouth will water at the courses that come out of it. Oh, and there's a gorgeous patio, which boasts views of the Belvedere and is shaded by the Galt House's third floor balcony.
Swizzle hearkens back to a time when patrons could enjoy an enticing supper, fine cocktails, and good company -- all in one location. They specialize in prime steaks, sustainable seafood, local produce, and head-spinning cocktails, while being surrounded by the best river and city views in Louisville. The restaurant also boasts twin revolving floors, an open concept kitchen, and an expansive bar. Located on the 25th floor of the West Tower of the Historic Galt House Hotel, to be short: it's an exemplary dining experience.
Drinking at the Galt House
All bachelorette parties need fabulous cocktails, right? While you can have delicious drinks at both Walker's and Swizzle, the Galt House also has an on-site bar, Jockey Silks, that is sure to please your group!
An upscale bourbon lounge and full-service bar, there's a menu offering for everyone at Jockey Silks. Though not exclusively bourbon (I'm a gin lover, as y'all know), beginners to experts will be impressed by the curation of spirits. Oh, and did I mention that Jockey Silks has been a mainstay of the Louisville Bar Scene since 1972?
Shelby's Bachelorette Party
My best friend Shelby recently got married (more on that to come, y'all) and I was very proud to stand beside her as her Man of Honor.
When looking back at the planning of this day over the last two years, I remember many of the steps fondly -- but, planning the Bachelorette is near the top of the list.
While the current state of our world is less than ideal and original plans had to be pivoted in accordance to public health, we still had a great time with our small group -- and the Galt House Hotel made certain of that.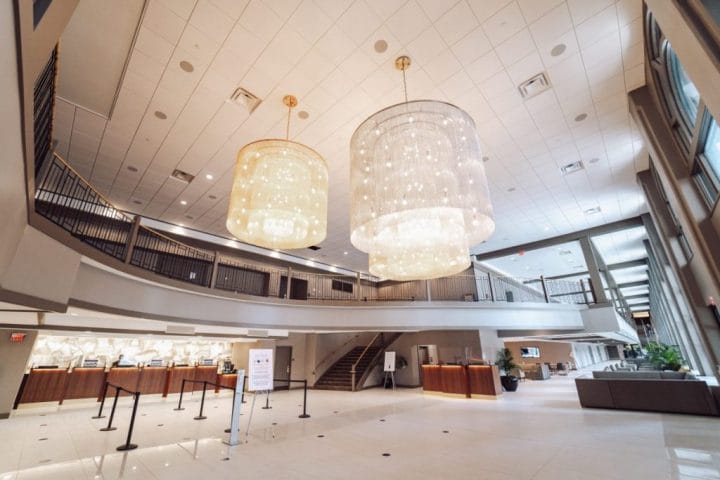 The suite we stayed in overlooked the Ohio River. It was a peaceful way to wake up each morning and we all enjoyed the view.
Speaking of the suites, they are absolutely gorgeous. Roomy, modern, and expertly-renovated -- it's (by far) the nicest hotel room in Kentucky that I've had the pleasure of staying in.
The culinary experience - both food and cocktails - were extraordinary. We all agreed upon that fact.
And last, but certainly not least, the hotel service was second-to-none.
While there was, of course, your typical Bachelorette regalia that won't be making an appearance here on the blog, do know that our celebration was hysterically traditional. Out of character for me, certainly, but an experience that I will always remember fondly.
Final Thoughts
If you are thinking of throwing a Bachelorette Party in Downtown Louisville - or just wanting somewhere to stay downtown - I give the Galt House my highest recommendation. They have it all: a gorgeous property, fabulous food + drinks, and a great location.
To quote Stevie Wonder, "Isn't she lovely?"
Y'all come back now, ya hear?
My best,
JC
Did you enjoy reading "Where To Have A Bachelorette Party In Downtown Louisville"? Check out my other Kentucky blog posts here.