Hey, y'all! Have a craving for Italian food in Louisville? I have the best recommendation for you: Silvio's Italian Restaurant. When dining at Silvio's, you're feasting on Melillo family recipes. In the heart of St. Matthews, you'll feel as if you're at their family dinner table while listening to Frank Sinatra over the speakers -- and you'll be treated like family, too. You'll love the flavors and sense of tradition; within a few bites, you'll understand why Silvio's is one of my favorite restaurants in the city.
Silvio's Italian Restaurant: St. Matthews, Louisville, KY
When Melillo's in Downtown Louisville closed in 2008, Bill Silvio Melillo wanted to revive the ability for Louisvillians to get a taste of the Melillo family's Italian cooking. In 2015, Bill purchased the new location on Fairfax Avenue. Since then, the robust flavors have been back in Derby City and are here to stay!
Silvio's Italian Restaurant: Menu
There's no better way to start your meal than with fresh bread and shrimp scampi, which are sautéed with garlic butter, olive oil, and wine. I also recommend their caesar salad, which features a delicious dressing and house-made croutons. Be sure to get the anchovies!
If you're looking for a heavier appetizer, order the Rice Balls (arancini). They are served a la carte and feature arborio rice stuffed with fresh mozzarella and Parmigiano Reggiano, fried, and topped with marinara.
I ordered the Isle of Skye Salmon for my entree: Scottish salmon topped with lemon dill butter, served with sautéed baby kale and risotto.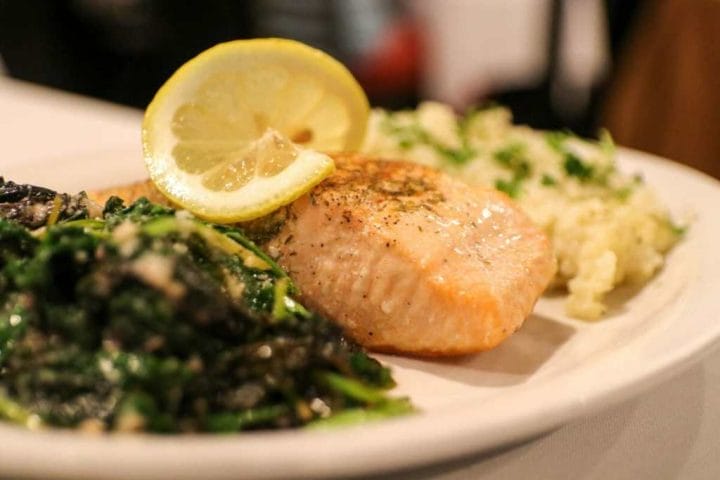 I also tried the meatball lasagna, which was delicious. Other entree options that piqued my interest included the bolognese, shrimp and polenta, and theeggplant parm.
Whether for an appetizer or as a side for your dish, I recommend adding a spicy Italian sausage for the table. They also have a sweet Italian sausage version. Absolutely delicious!
No meal at Silvio's is complete without dessert. Options include salted caramel cheesecake, cannolis, limoncello cake, tiramisu, Italian cream cake, and more.
Visit Silvio's Italian Restaurant: St. Matthews, Louisville, KY
104 Fairfax Avenue, Louisville, KY 40207
502-883-6369
Mon: Closed, Tue - Thurs: 5pm - 9pm, Fri - Sat: 5pm - 10pm, Sun: Closed
Y'all come back now, ya hear?
My best,
JC
Keep Up With JCP Eats
Thank you so much for visiting the blog today! I'd love to keep in touch via social media. You can follow my content on Instagram, Facebook, Pinterest, Tik Tok, Twitter, and LinkedIn. I also author a second website, Notable Kentucky, on which I write about all things of note in the Commonwealth of Kentucky. Read Notable Kentucky here.