Hey, y'all! What if I told you that you could experience authentic Latin and Peruvian flavors right here in Kentucky? My guess is that many of you would be skeptical of that claim, which makes me even more excited to introduce you to Pisco Sour Latin Family Restaurant in Shelbyville, KY. Pisco Sour is a family-owned and operated restaurant serving flavorful, delicious dishes -- I know you will be a fan, just as I was upon leaving.
Thank you to ShelbyKY Tourism for sponsoring this post. As always, all opinions expressed are my own. Thank you to my readers for supporting those that make JCP Eats possible.
Pisco Sour Latin Family Restaurant: Shelbyville, KY
What is Pisco Sour? A Pisco Sour is a traditional Peruvian alcoholic beverage, which is appropriately named as it features Pisco as the base liquor. Along with Pisco, classic ingredients include an egg white, sour citrus (such as lemon juice), and simple syrup. I've never had the privilege of traveling to Peru, though it is on my bucket list; that said, I was able to try a Pisco Sour for the first time at Pisco Sour Latin Family Restaurant - a new experience that I immensely enjoyed. That's the beauty of Kentucky: if you look around, it's incredible to see how many cultures are prevalent across the Commonwealth.
I mentioned that Pisco Sour Latin Family Restaurant is a family-owned restaurant, which was one of my favorite aspects of the experience. The owner's son was my waiter and bartender, while the owner came by the table to talk about his Peruvian heritage, the stories of the cuisine, and how he has integrated it into Shelby County. When you dine at Pisco Sour, you are dining with a family, which is something that I'll always champion.
Pisco Sour Latin Family Restaurant: What I Ordered
We started with the delicious yuca fries. Yuca, also known as cassava, is a root vegetable native to South America, Africa, and Asia.
For my entree, I ordered the Lomo Saltado, which features stir-fried sirloin steak, onions, and tomatoes. It's one of their most popular dishes - and upon tasting it, I understand why!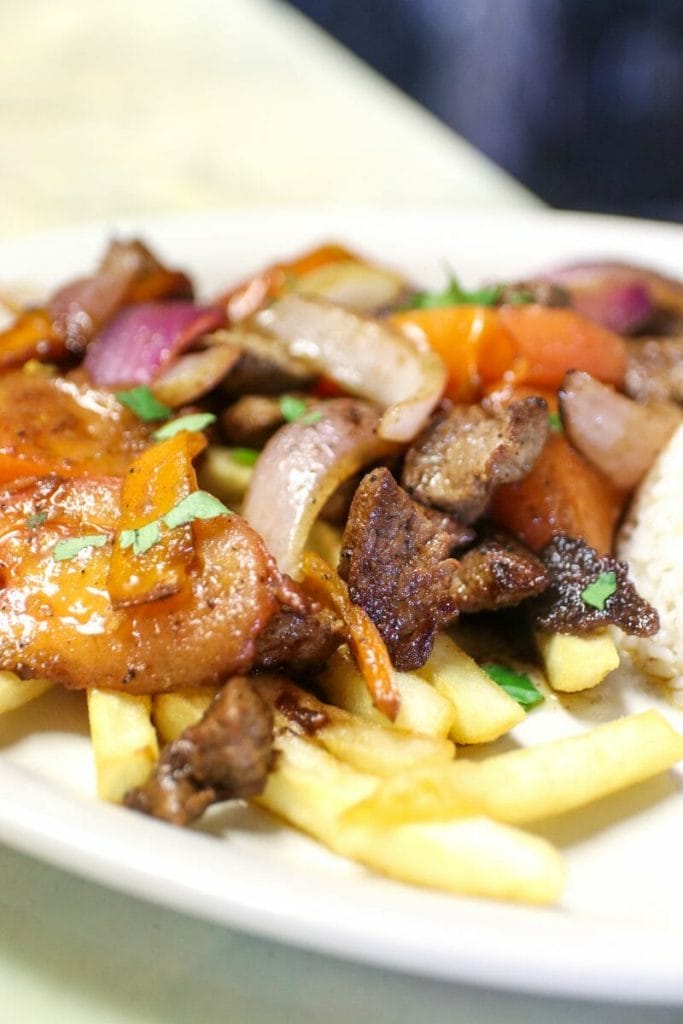 At the table, we also had the Tallarin a la Huancaina, a pasta tossed in a deliciously cheesy, smokey Huancaina sauce.
I also had the opportunity to test many cocktails - some offerings are classics, while others are seasonal. Upon tasting, it's safe to say that you can't go wrong with any of their offerings. However, I suggest you have a cocktail with Pisco, which is rare to find on menus and is quintessentially Peruvian.
The menu at Pisco Sour Latin Family Restaurant is extensive, and there are so many other dishes that I plan to try on future visits. Some of those dishes include the Arroz Chaufa, Ceviche, and Escabeche. No matter your palate, I can assure you: there's something on the menu for you!
Visit Pisco Sour Latin Family Restaurant
2093 Midland Trail, Shelbyville, KY 40065; follow them on Facebook here.
Other Shelby County Recommendations
Y'all come back now, ya hear?
My best,
JC
Keep Up With JCP Eats
Thank you so much for visiting the blog today! I'd love to keep in touch via social media. You can follow my content on Instagram, Facebook, Pinterest, Tik Tok, Twitter, and LinkedIn.