Hey, y'all! If you are looking for a casual dining spot in Louisville, look no further than Mark's Feed Store. Conveniently located around the city, Mark's serves up delicious BBQ, southern sides, and something for any taste palate. It's a local favorite for a reason!
This post is in partnership with Mark's Feed Store. Thank you all for supporting the brands that make JCP Eats possible. All opinions expressed are my own.
Post updated November 2021.
About Mark's Feed Store
To quote their website, and to give you a little backstory about the business, "In the mid 80's, after spending 15 years working in the service industry and opening restaurants for other companies, founder and owner Mark Erwin decided it was time to branch out on his own. He brainstormed multiple concepts before deciding that what Louisville needed was a top-notch barbecue restaurant." From there, Mark's Feed Store was born.
Locations
Mark's has grown immensely since the 80's - namely, to six locations:
Middletown (11422 Shelbyville Road, Louisville, KY 40243)
Dixie Highway (10316 Dixie Hwy, Louisville, KY 40272)
Highlands (1514 Bardstown Road, Louisville, KY 40205)
New Albany (3827 Charlestown Road, New Albany, IN 47150)
Fern Creek (6501 Bardstown Road, Louisville, KY 40291)
Elizabethtown (4021 N Dixie Highway, Elizabethtown, Ky 42701)
Enjoy reading about Mark's Feed Store? Read my other blog posts here.
Dining At Mark's Feed Store
Why has it grown into such a powerhouse of the area? It's simple: the food!
I started off with Mark's Famous Honeywings. Crispy, sweet, and so much flavor - these were truly the highlight of the meal for me.
I then moved to the Burgoo & Bar-B-Q section of the menu. I ordered the classic sandwich and a cup of Burgoo. To me, burgoo embodies Kentucky comfort food - and their version stood up to my high standards. Very soothing, thick, and flavorful.
Can you go a BBQ restaurant without trying the ribs? The sauce used was sweet, savory, and just right. Needless to say, I devoured these pretty quickly. Thankfully, I wasn't being filmed - I'm not sure it would've been a good look for me, which means I was doing it correctly.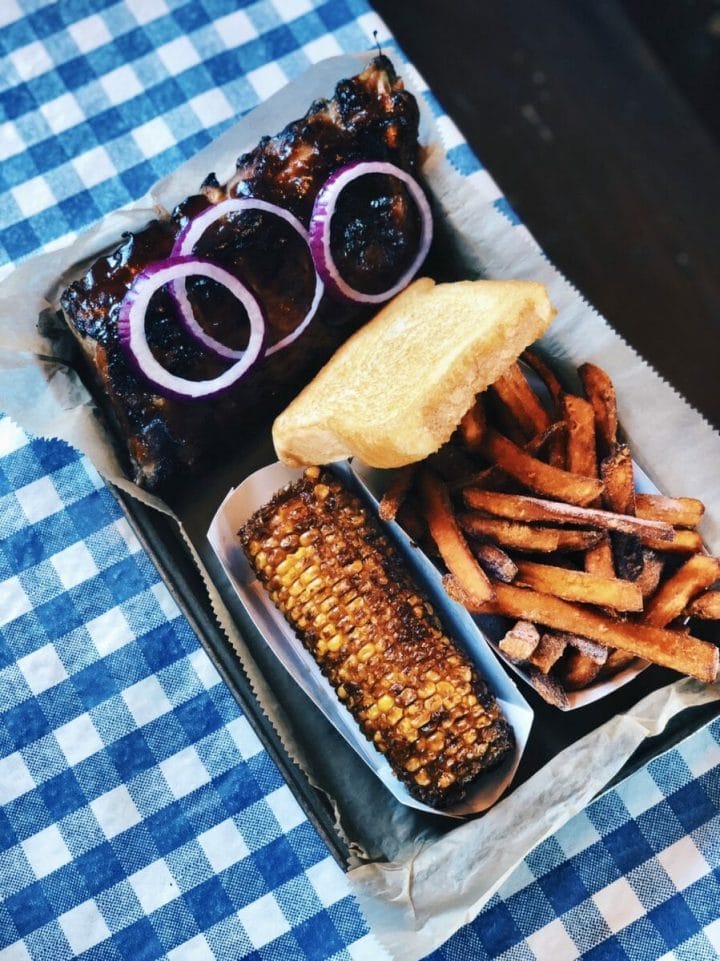 One of my favorite things at BBQ restaurants is smoked turkey. Mark's Feed Store served up three thick-cut slices that were simply mouthwatering!
As if I hadn't ordered enough, I needed to top it off with dessert. I couldn't leave without trying the Buttermilk Crunch, which features chunks of Buttermilk Pie topped with ice cream, caramel, and nuts. Need I say more?
The next time you have a hankerin' for BBQ or comfort food in the Louisville area, be sure to visit Mark's Feed Store at one of their six convenient locations.
Y'all come back now, ya hear?
My best,
JC
Love this post? Check out the rest of my website here.
Keep Up With JCP Eats
Thank you so much for visiting the blog today! I'd love to keep in touch via social media. You can follow my content on Instagram, Facebook, Pinterest, Tik Tok, Twitter, and LinkedIn. I also author a sister website to JCP Eats, Unabashedly Southern, on which I write about southern lifestyle. Read Unabashedly Southern here.