Hey, y'all! My best friend Shelby's daughter, Cecilia Alice, recently turned one. As such: a large-scale party was in order! She has brought so much joy to our lives, especially so during a pandemic and in a time of such great pain and uncertainty. While many aspects of the party were memorable, I wanted to share the highlight of it all: Spotz Gelato. If you are looking for perfect Kentucky Birthday Party Ideas, look no further!
This post is in partnership with Spotz Gelato. All opinions expressed are my own. Thank you for supporting those that make JCP Eats possible.
Kentucky Birthday Party Ideas: Spotz Gelato
About Spotz Gelato
Spotz Gelato serves up award-winning, handcrafted, small-batch gelato and sorbet. Everything served at Spotz is made from local Kentucky Proud ingredients and is served in both their Scoop Shops and in vintage food trucks at festivals, events, weddings, corporate events, and private parties throughout Kentucky. A certified Kentucky Proud business, Spotz Gelato is produced in a commercial kitchen on the owner's farm to ensure freshness. Their mission is to provide a taste of Italy with the very best of the Commonwealth's ingredients!
The Flavors
You'll find a multitude of delicious flavors at Spotz Gelato — from banana pudding (my favorite), to cookies and cream, to birthday cake, to peanut butter… there's a flavor for everyone. When you book a party with Spotz, you will work with the staff to create the perfect offerings (both number of flavors + quantity). For Cecilia's party, we chose: strawberry sorbet, birthday cake, banana pudding, and cookies and cream!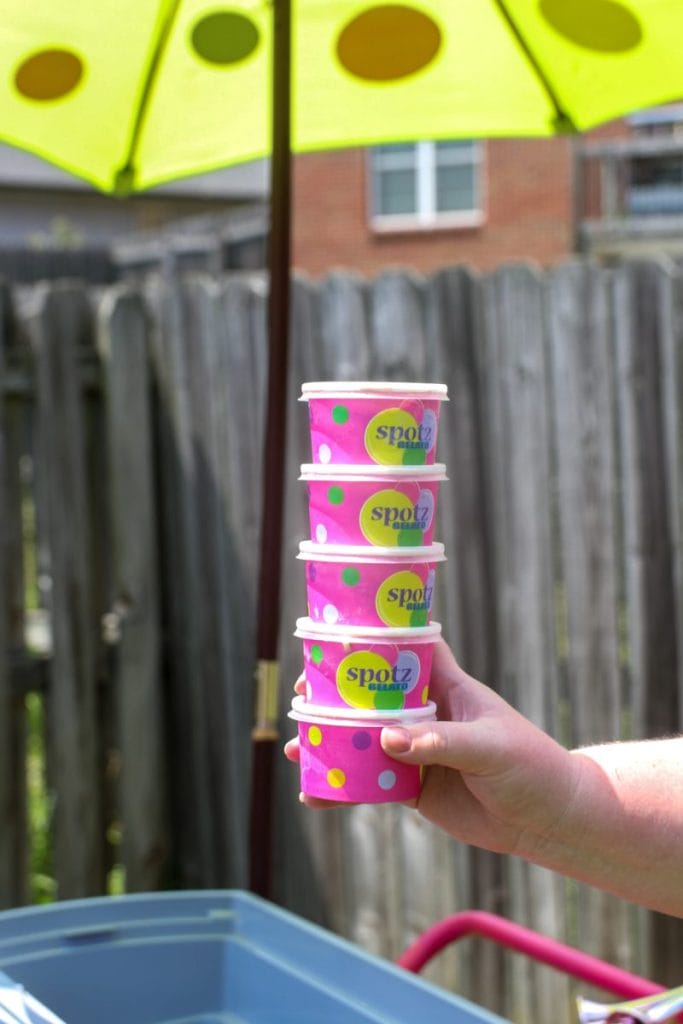 How do I choose the flavors for my party?
The owner recommended that we choose one sorbet and three gelatos for a party of our size. Her recommendation turned out to be perfect, as there was an offering for everyone. I definitely recommend having both gelato and sorbet!
Before I book a party with Spotz, I want to try the product. Can I?
Yes! Spotz has four brick and mortar Scoop Shops in Kentucky: Shelbyville, Georgetown, Midway, and Versailles.
The Spotz Trucks and Other Mobile Units
While you can visit Spotz in person at one of their four scoop shops around the Commonwealth of Kentucky, they are one of my top Kentucky Birthday Party Ideas because they are, in fact, mobile! The Spotz Trucks and Other Mobile Units are available for hire for private events: weddings, birthdays, corporate functions, and more.  If a Truck won't fit in at your event, you can hire a Spotz Bike, Wagon or Mini-Bar that work indoors or out. We chose the Spotz Bike, which you can see in the photos, and it was absolutely perfect.
To check out the Spotz Trucks and Other Mobile Units/get a quote, visit this page and fill out the form.
Making Your Party Special
Every attendee of Cecilia's party raved about Spotz Gelato. They went out of their way to make the event one to remember and I can't wait for Cecilia to look back + cherish these photos for years to come (I know that I will). Their product quality + flavors speak for themselves after one bite; but, I also want to take a minute to brag on their customer service, kindness, and professionalism. If you're looking for Kentucky Birthday Party Ideas, I can't imagine a better option.
Want to try out the product? Visit Spotz Gelato Scoop Shops In-Person!
Versailles, Kentucky: 148 Court Street
Georgetown, Kentucky: 135 West Main Street
Shelbyville, Kentucky: 545 Main Street
Midway, Kentucky: 130 East Main Street
Y'all come back now, ya hear?
My best,
JC
Keep Up With JCP Eats
Thank you so much for visiting the blog today! I'd love to keep in touch via social media. You can follow my content on Instagram, Facebook, Pinterest, Tik Tok, Twitter, and LinkedIn. I also author a sister website to JCP Eats, Unabashedly Southern, on which I write about southern lifestyle. Read Unabashedly Southern here.
Love "Kentucky Birthday Party Ideas: Spotz Gelato"? Check out my other blogs here.