Hey, y'all! I recently had the chance to drive over to Lexington and spend an evening with my friends at Keeneland. Keeneland has been a large part of my life for as long as I can remember - from the time that I lived in Russell County, to college memories while at Centre, to days spent at the races as a twenty-something postgraduate. However, this was my first time attending a dinner on the immaculate grounds. To understate: the Keeneland Paddock Dinner Series did not disappoint.
This post is in partnership with Keeneland. Thank you all for supporting those that make JCP Eats possible. All opinions expressed are my own. Originally published July 2019, updated May 2021.
Keeneland Paddock Dinner Series
About Keeneland
Founded in 1936, Keeneland's mission is to continually invest in the equine industry and to preserve the tradition of Thoroughbred racing. To merely say that they have accomplished this would be gross understatement; they are a world-renowned racecourse – a fact that we, as Kentuckians, should be immensely proud of. I would also argue that Keeneland serves as a meeting ground, an oasis of southern culture; there's no place quite like it in the Commonwealth, or anywhere, as far as I am concerned.
The Dinner
Appetizers
The evening started off with some Citrus-Braised Carnitas Cones, which featured smashed avocado and a lime emulsion (I loved the presentation!), and Watermelon Ginger Elixirs, which were garnished with cherries and bourbon sugar.
Cocktails
The cocktail hour also wouldn't have been complete without a bourbon + gin-based cocktail. Both were fabulous!
Enjoy learning about the Keeneland Paddock Dinner Series? Check out my other Kentucky blog posts here!
Main Course + Sides
Our meal started with Torched Hamachi, which was flown in that day from Hawaii and featured Japanese cucumber, young ginger, and a bourbon shoyu.
Next came the Summer Melon, which was accompanied by grilled peaches, garden mint, marinated feta, and a warm cucumber vinaigrette. In the same course was the Keeneland Cured Duck Ham, which was duck prepared in the style of country ham with chicory, smoked salt, and a blackberry chardonnay gastrique.
My favorite course was next: Country Style Slow-Braised Veal Short Ribs, which had a celery root mash, golden oyster mushrooms, and a glace de viande.
It would be erroneous to forgo bragging on the Butler Farms Cherry-Smoked Lemon Chicken course, which had a dill pickle relish, carmelized young leeks, and bacon jam. This was definitely a table favorite.
The sides stood up to the main courses, as the staff quickly brought out Pan Roasted Market Vegetables - rainbow carrots, mustard greens, beets - and Duck Fat Marble Potato Confit, which had a garlic scape pesto & was flavored by port wine salt.
Enjoy learning about the Keeneland Paddock Dinner Series? Check out my other Kentucky blog posts here!
Dessert
Dessert was a Blueberry Madeline Trifle, which was eloquently topped with 18 yr. old balsamic, country créme, and a mint gremolata. Sweet, but not overly so -- the perfect ending to a fabulous meal.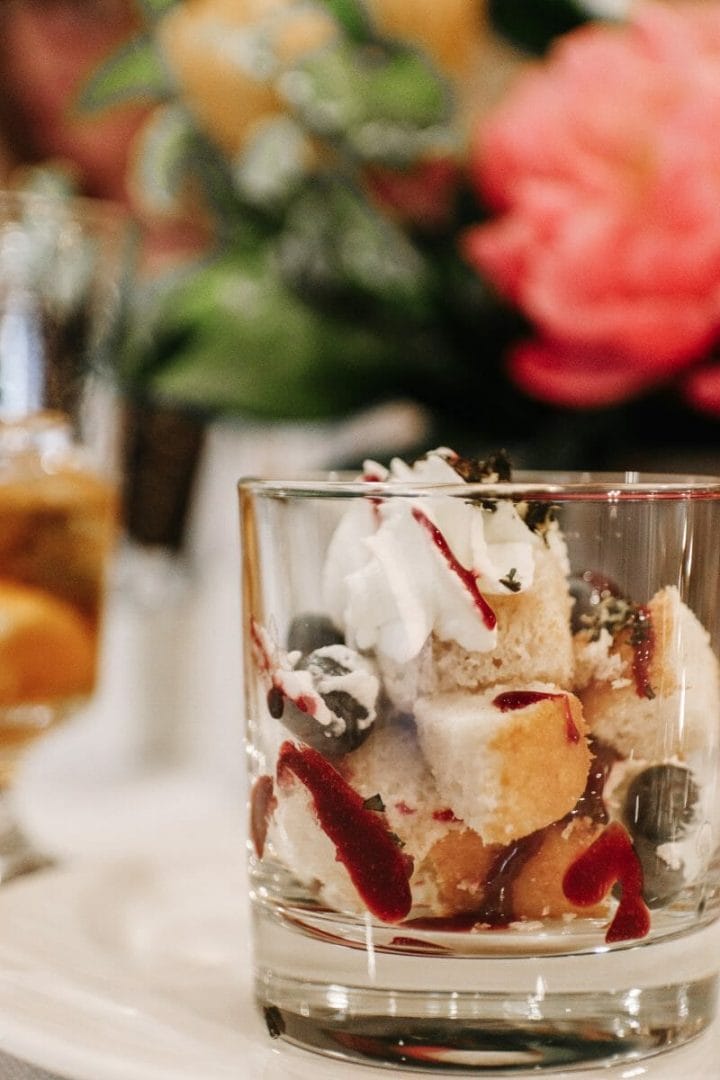 The Experience
The standout aspect, apart from the food, was the setting. It doesn't get much better than Keeneland - and I do hope that you will take advantage of future events on the grounds. Be sure to keep up with their announcements + act quickly -- ticketed events sell out fast!
Y'all come back now, ya hear?
My best,
JC
Keep Up With JCP Eats
Thank you so much for visiting the blog today! I'd love to keep in touch via social media. You can follow my content on Instagram, Facebook, Pinterest, Tik Tok, Twitter, and LinkedIn. I also author a sister website to JCP Eats, Unabashedly Southern, on which I write about southern lifestyle. Read Unabashedly Southern here.
Love reading about the Keeneland Paddock Dinner Series? Check out my other blog posts here!