Hey, y'all! When traveling, finding a restaurant that is clearly a local favorite is always exciting. Today I have exactly that to share with you -- Ferrell's Snappy Service, an iconic eatery in Madisonville, KY.
Ferrell's Snappy Service: Madisonville, KY
Thank you to Hopkins County Tourist and Convention Commission for sponsoring this post. As always, all opinions expressed are my own. Thank you to my readers for supporting those that make JCP Eats possible.
What To Expect
A Madisonville landmark, Ferrell's Snappy Service has been flipping burgers and frying potatoes since 1929!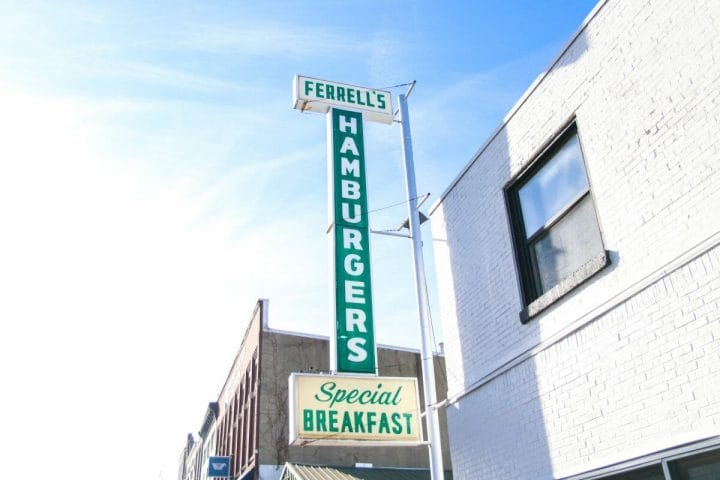 When you enter Ferrell's Snappy Service, you'll notice that it's full of locals that are regular patrons. I quickly realized that the servers and cooks knew almost everyone's order by heart, which I respect and value. Ferrell's is small and has an old-school diner feel. You can sit on bar stools at the window or directly at the bar, where they cook your food. Watching your food be cooked right before your eyes is fun - an experience that reminded me of my childhood!
What to Order
If you are going for the first time, I recommend ordering the classic Ferrell's burger. It's a delicious diner burger at a very affordable price.
Their breakfast also looked terrific - that's what I plan to order on my next trip!
Visit Ferrell's Snappy Service
You can visit Ferrell's Snappy Service at 112 N Main St, Madisonville, KY 42431.
Other Madisonville-Hopkins County Recommendations
About Madisonville-Hopkins County, KY
Madisonville and Hopkins County are home to Kentucky's largest variety of outdoor recreation activities, including scenic trails, tranquil lakes, rolling grasslands, and dense forests. Madisonville offers a variety of delectable dining, a state-of-the-art fine arts theatre and gallery, and a wide selection of comfortable and hospitable accommodations.
Y'all come back now, ya hear?
My best,
JC
Keep Up With JCP Eats
Thank you so much for visiting the blog today! I'd love to keep in touch via social media. You can follow my content on Instagram, Facebook, Pinterest, Tik Tok, Twitter, and LinkedIn.