Hey, y'all! I'm so excited to introduce you to the Farmer and the Frenchman today, a one-of-a-kind property located in Henderson County, Kentucky. I've been to almost every nook and cranny of our Commonwealth - and in my exploration, I've never found a place quite like this. To say that I fell in love almost instantaneously would be an understatement and I know y'all will feel the exact same way. From food, to wine, to stunning lodging -- the Farmer and the Frenchman needs to be your next Kentucky road trip.
Thank you to the Bluegrass, Blues, and BBQ Region for sponsoring this post. As always, all opinions expressed are my own. Thank you to my readers for supporting those that make JCP Eats possible.
About Farmer and the Frenchman
The Farmer and the Frenchman is quaintly located off of I69 on Highway 41 South. Owned by Hubert Mussat and Katy Groves-Mussat, the property serves as a cultural hub of the region.
One moment you are driving down picturesque, country roads -- and upon the blink of an eye, you arrive at the world-class property.
The cuisine at the Farmer and the Frenchman is said to be "vineyard-to-table". Influenced by European wineries and wine-growing regions, the owners were inspired by the "locavore" mentality. Locavores focus on consuming food that is produced within the local region. Their food program (which stands victorious by its lonesome) directly complements the wine program, symbiotically elevating one another.
What I Ordered
The menu offerings at the Farmer and the Frenchman are seasonal and reflect the availability of their farming partners. What the owners have access to locally is what you'll find on the table. With this mentality, taste a dish and you'll thank them later.
Dinner started with the tomato & burrata salad: greens, fresh tomato, marinated burrata, basil, balsamic glaze. It was perfectly accompanied by their homemade bread, which is served warm and is brushed with olive oil + parmesan.
One of main courses at the table was the chicken parmesan: fried chicken breast tossed in breadcrumbs, topped with marinara + mozzarella, and served with linguine pomodoro. While this wasn't my order, I snuck a bite or two -- and it was mouthwateringly delicious.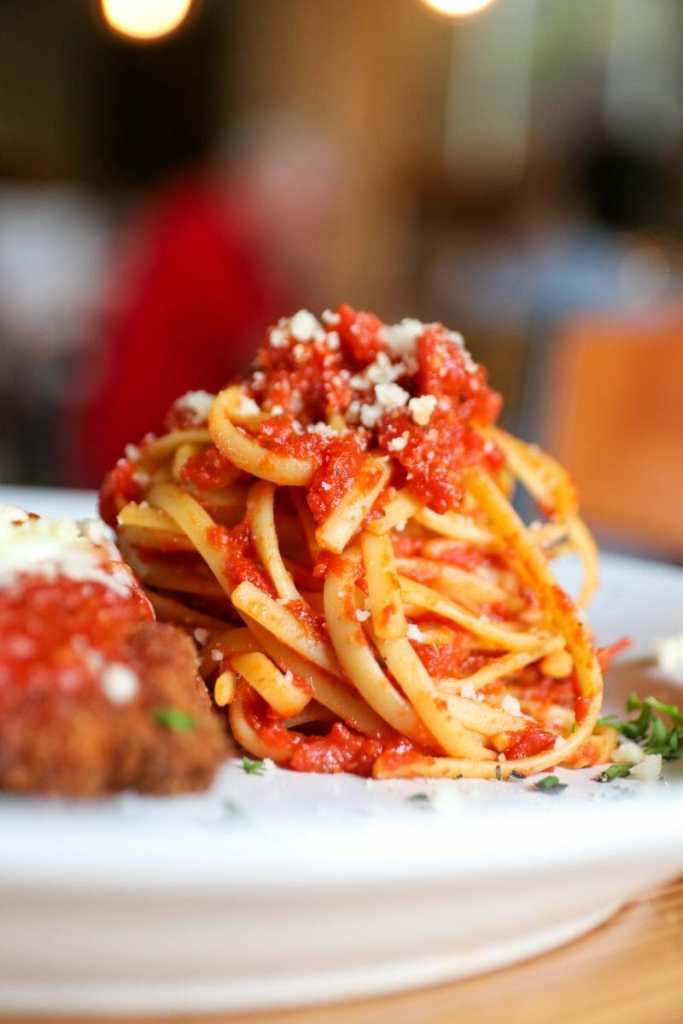 My dish of choice was the seared salmon: verlasso salmon, mushroom and leek risotto, ratatouille, herbed butter. The only thing better than the beautiful presentation was the bold, delicious flavor profile.
While enjoying dinner, do ask your server for their wine recommendations. The Farmer and Frenchman boasts many varieties and I'm certain there is a perfect choice for you. If you're anything like me, you won't be able to make up your mind; in that case, choose a flight.
The wines were expertly served throughout the dinner courses, which made for a wonderful experience. While all were different, I enjoyed them all immensely.
Stay At The Farmer & The Frenchman
Once you arrive on the property, you'll immediately note how gorgeous it is. What if, say, you could stay there? Well, my friends, you can! There are three identical cabins for rent on the farm: the Riene, the Roi, and the Dauphin. The solar-powered cabins are conveniently located beside the café and winery, offering the perfect balance of outdoor adventure with comfort and amenities. Enjoy meals at the restaurant, take guided vineyard tours, order room service, and take in the 360-degree view of the property's acreage. It truly is a magical experience unlike any other property that I have visited in Kentucky.
Make a cabin reservation here.
Book A Trip - Plan A Visit
What are you waiting for? If you're looking for food, wine, and fun -- the Farmer and the Frenchman is the perfect destination for you. You can learn more about the F&F property, experience, and menus here; learn more about historic Henderson County, Kentucky here.
Address: 12522 US Hwy 41, Robards, KY 42452
Y'all come back now, ya hear?
My best,
JC
Keep Up With JCP Eats
Thank you so much for visiting the blog today! I'd love to keep in touch via social media. You can follow my content on Instagram, Facebook, Pinterest, Tik Tok, Twitter, and LinkedIn. I also author a second website, Notable Kentucky, on which I write about all things of note in the Commonwealth of Kentucky. Read Notable Kentucky here.