Hey, y'all! I know many of y'all love brunch and often write to me regarding brunch recommendations across the Commonwealth of Kentucky. Looking for a high-quality, endless brunch in Downtown Louisville? Look no further than Swizzle, which is located on the 25th floor of the Galt House Hotel.
Endless Brunch In Downtown Louisville
Brunch at Swizzle is progressive in nature. By progressive, I mean this: the food keeps on comin' and comin', y'all. Both starters and desserts come to the table to share; as for the main dishes, you order as many options off of the small plates menu (they recommend 2-3 at a time) as you desire! Some items that I didn't try this time, but hope to in the future, include: chicken & waffles, the smoked mozzarella and tomato salad, buttermilk biscuits and sausage gravy, and the buttermilk pancakes. Yum, right?!
Swizzle Brunch Offerings: What I Had
Starters for the Table include: deviled eggs (smoked bacon, chives), breakfast breads (Croissants, Pain Au Chocolate, and raspberry croissants - all served with creamed butter & fruit preserves), and yogurt parfaits (Greek & strawberry yogurt, granola & fresh berries).
Brunch Bagel: Toasted everything bagel, lox, chopped egg, pickled shallots, fried capers & whipped cream cheese.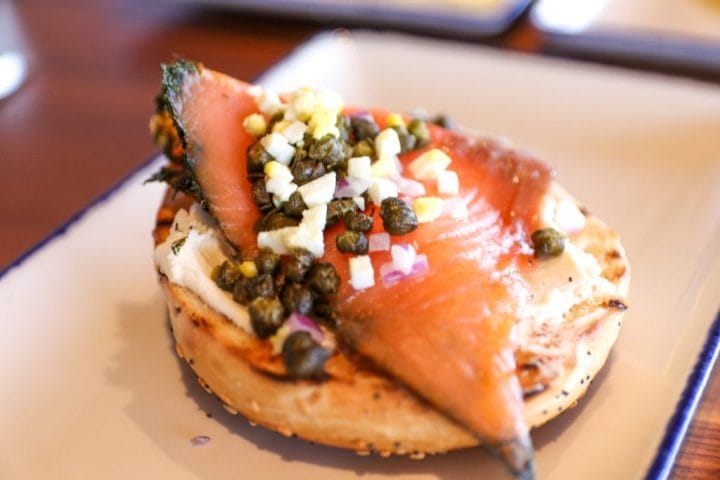 Steak & Eggs: Sliced sirloin & a fried egg with chimichurri sauce.
Crab Cake Benedict: Poached egg, crab cake, & hollandaise on toasted brioche.
Hash brown casserole with aged cheddar cheese.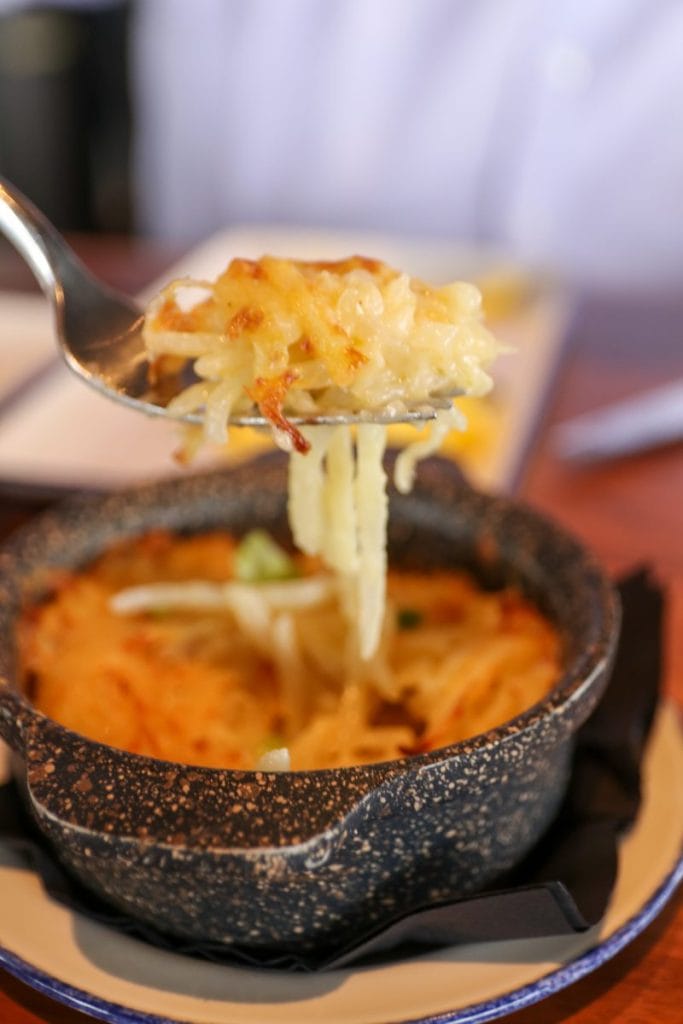 Added brunch cocktail ($9), the Candied Bacon Bloody Mary: Stoli hot jalapeño vodka, Zing Zang Bloody Mary mix, Worcestershire with bacon and a pickled garnish.
Dessert for the table includes: assorted french macaroons, freshly-baked chocolate chip cookies, apple tarte tatin, and pineapple upside down cake.
A Unique Brunch Experience In Downtown Louisville
There's no brunch experience quite like this in Downtown Louisville. I know y'all are going to love it -- both the food and the atmosphere! Brunch is on Sundays from 10-2 and is $28/person. For the quality of food + the unlimited, all-you-can-eat menu -- this is a wonderful deal!
About Swizzle
A proclaimed "retro-style supper club for the modern diner", Swizzle hearkens back to a time when patrons could enjoy an enticing supper, fine cocktails, and good company whenever they wanted.
Swizzle serves up prime steaks, sustainable seafood, local produce, and head-spinning cocktails – all surrounded by the best river and city views in Louisville.
Swizzle boasts twin revolving floors (the only restaurant in the country to have two!), an open concept kitchen, and an expansive bar. Located on the 25th floor of the West Tower of the Historic Galt House Hotel, to be short: it's an exemplary dining experience.
Y'all come back now, ya hear?
My best,
JC
Thank you, Swizzle, for sponsoring this post. All opinions shared, as always, are uniquely my own.
Enjoy reading "Endless Brunch in Downtown Louisville: Swizzle"? Read my other blog posts here.
Check out my sister site, Unabashedly Southern, for lifestyle content!