Hey, y'all If you're on the hunt for an authentic Kentucky dining experience, look no further than the Claudia Sanders Dinner House in Shelbyville, KY. Diners find the finest of country fare served at the Claudia Sanders Dinner House, paying homage to the traditions of the founders: Colonel and Claudia Sanders. If southern hospitality and fried chicken is what you're after, this is the restaurant for you.
This post is in partnership with Shelby County Tourism. Thank you all for supporting those that make JCP Eats possible. All opinions expressed are my own. Post updated May 2021.
Claudia Sanders Dinner House: The Experience
There's no better way to order at Claudia Sanders than choosing fried chicken. If you want traditional, bone-in fried chicken -- order the Claudia Chicken Special. That said, if you want boneless, they also make wonderful chicken fingers. The chicken is well-seasoned, and delectably breaded -- just as it should be.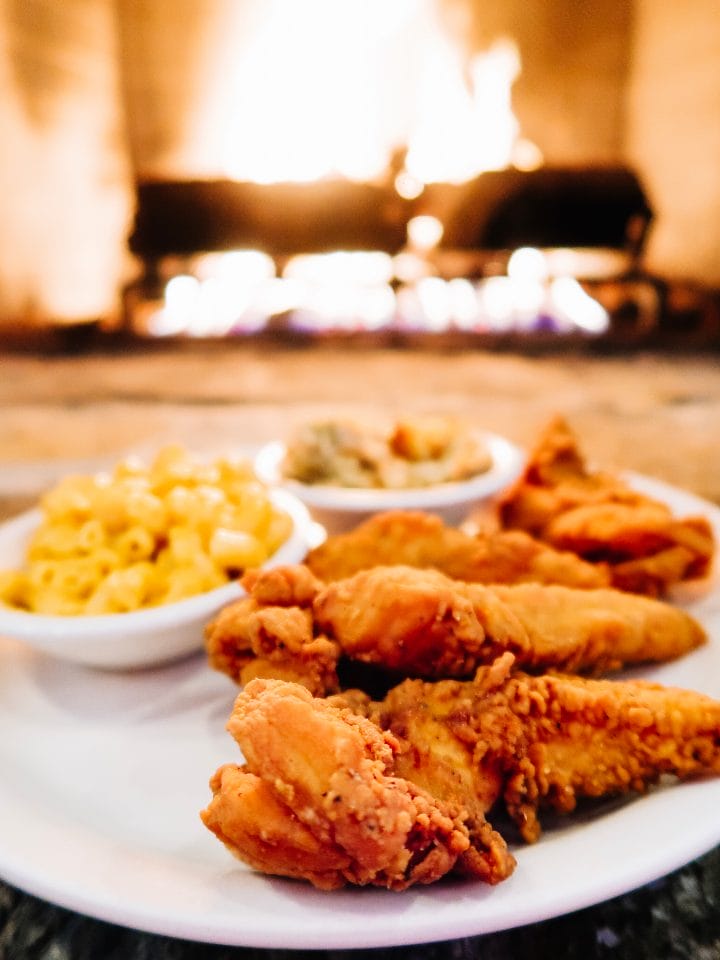 The menu includes other Kentucky favorites: hot browns, country ham, chicken livers, and sugar-cured ham. Sides at the Claudia Sanders Dinner House are made from scratch. Some highlights include: creamed spinach, corn pudding, Harvard beets, stewed tomatoes, macaroni and cheese, and my favorite - the mock oysters, which are made with eggplant.
A signature highlight of a meal at the Claudia Sanders Dinner House is their homemade rolls -- they are world-famous!
Enjoying this post? Read more of my articles here!
Plan Your Visit
You can visit the Claudia Sanders Dinner House at 3202 Shelbyville Road, U.S. 60, Shelbyville, KY 40065; they can be reached at 502-633-5600.
Kentucky History
We often hear about Colonel Sanders of Kentucky Fried Chicken. However, in learning about the legacy, it is important to also discuss Claudia.
To quote: "In 1959, at the age of 69, Colonel Harland Sanders and his wife, Claudia, moved from Southeastern Kentucky to Shelbyville. Prior to this, the Colonel had spent many years in Corbin, Kentucky, developing his now world-famous chicken recipe. His move to Shelbyville was prompted by the opening of Interstate 75 which bypassed Corbin and his restaurant. It was from this property that Kentucky Fried Chicken grew into a world-wide organization.
The one hundred twenty five year old dwelling, Blackwood Hall, which is adjacent to the Dinner House, served as the Sander's residence and the base of operation for Kentucky Fried Chicken after their move here. The expanding business soon brought a need for office and warehouse space, so they constructed a building, later to become the Claudia Sanders Dinner House.
In 1964, Colonel Sanders sold Kentucky Fried Chicken and the company offices were moved. Neither this building nor the Sanders Family were to remain idle for long however. Their knowledge of Southern Recipes and their natural leaning toward the restaurant business soon brought about the creation of the Claudia Sanders Dinner House, where an air of southern hospitality and cooking, combined with old fashioned, family style service, still remain."
About Shelby County, KY
Shelby County, a community of small-town charm and world-class equestrian events, is the American Saddlebred Capital of the World. Home to 90-plus Saddlebred horse farms and breeding and training facilities, ShelbyKY gives visitors a rare peek into the world of the Saddlebred show horse. Attractions include Kentucky's only designer outlet mall, The Outlet Shoppes of the Bluegrass; the antique, home accessory and furniture shops comprising "Design Destination"; Jeptha Creed Distillery; Bulleit Distillery; Talon Winery; and the Shelby County Community Theatre. ShelbyKY's dining landscape includes culinary icons Science Hill Inn and Claudia Sanders Dinner House; overnight choices range from brand-name chain hotels to downtown lofts; and there are ample outdoor adventures to enjoy.
Y'all come back now, ya hear?
My best,
JC
Enjoy reading about the Claudia Sanders Dinner House? Read more of my Kentucky blog posts here.