Hey, y'all! Do you have plans this weekend? You do now! I would be so excited to see some of the blog family at the 2023 Foodstock and Somerset Smoke Show. It'll be a day full of food and fun - and I am honored to be your host and emcee of the day's events!
What You Need To Know: 2023 Foodstock and Somerset Smoke Show
Date: Saturday, April 29, 2023
Time: 11:00 a.m. - 9:00 p.m.
Location: Downtown Somerset (on the square)
This post is in partnership with See Somerset Tourism. Thank you all for supporting the brands that make JCP Eats possible. All opinions expressed are my own.
What Is Foodstock?
Foodstock features food trucks from across the state, spirit and beverage vendors, live art creation, and lots of fun music and activities for families. This year's featured event is the Somerset Smoke Show, presented by ProTrade Hardware and Baney's Bangin' BBQ. It will be a delicious time - especially because 30 food trucks will be on-site!
Admission is free to Foodstock; however, if you want to purchase alcoholic beverages, you must buy a $5 spirit wristband at one of our entrance gates.
Somerset Smoke Show
Watch grilling enthusiasts in action as they compete for Somerset's first-ever Grillmaster Title - all while enjoying demonstrations, tastings, and free tips and classes from professionals. Traeger Pro and award-winning pitmaster of Kryptonite BBQ, Keith Harris, will take the main stage of Foodstock throughout the day, teaching free BBQ classes on chicken, pork, ribs, etc.; all of this will be happening while the Grill-Off Competition is taking place. While there will be an ultimate Grillmaster, there will be individual winners for ribs prepared on the Weber, Traeger, and Big Green Egg.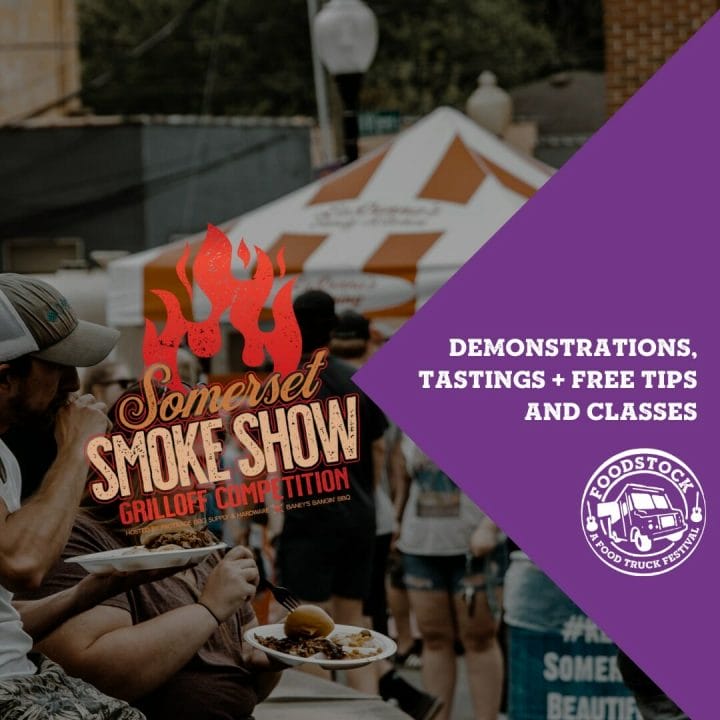 Main Stage Schedule
12 p.m.: Wood Fired Steak & Politics: A Traeger Masterpiece That Will Definitely Get Your Vote, with Mayor Alan Keck
12:45 p.m.: Meat Science: Choosing The Best Guts, with Pulaski County Agricultural Agent, J Adkins
1:30 p.m.: Smoked/Grilled Chicken Wings with Performance Food Service Chef and Kansas City BBQ Society Certified Judge, John Arnold
2:15 p.m.: Pulled Pork with Trager Pro and Award Winning Pitmaster of Kryptonite BBQ, Keith Harris
3 p.m.: Big Green Egg 101: The Ultimate Cooking Experience with Big Green Egg Representative and BBQ Pro Mark Syoen
3:45 p.m. Spatchcock Chicken with Traeger Pro and Award-Winning Pitmaster Kryptonite BBQ, Keith Harris
4:30 p.m. Perfect Wood Fired Big Green Egg Pizza 101 with Big Green Egg Representative and Award Winning BBQ Pro Mark Syoen
 5:15 p.m.: Perfect Smash Burger on the Big Green Egg with Big Green Egg Representative and Award-Winning BBQ Pro Mark Syoen
Confirmed Vendors: 2023 Foodstock and Somerset Smoke Show
Get Ur Smoke On
City Slicker Dawgs
Cookie Dough Bliss
Summit Meats
Shakes & Cakes
West Sixth Brewing
Megan's Sweet Treats
Toms Travelin' Coffee
Little Donut Trailer
R&D Concessions
Scoop Bug Ice Cream & More
Koffee Pig
Tap on Main
Gold Star Chili
Chilling and Grilling
Ladonna's Candy Kitchen
Cave Hill Winery & Vineyard
Zimmermans Famous Pig
Mac Chaos
Bert's Speakcheezy
Jarfly Brewing
Hendrickson Kettle Corn
Roy's Jamerican Grill
Ruckel's
A1 Ice Cream
Matilda's Dogs and More
Eddie's Roasted Corn
Crazy Eatz
Tacos Tanacos
Somerset Cocktails
Design Addiction
Bailey Kate
Friends of the Earth Macrame
Little Patch of Heaven
Clay Hill Art
Busker Competition
The day's event will also host the popular Busker Music Contest at two locations within the festival area: Jarfly Brewing Company and The Tipsy Toad! Voting will take place from 11 a.m. - 9 p.m. Saturday, April 29 at both locations. You must have a cell phone to vote. Scan the QR code displayed at each site (in multiple places throughout each establishment) to vote for your favorite musician. Voting totals will be verified on May 1, and the winner will be announced at 5 p.m. on See Somerset's Facebook and Instagram.
The Tipsy Toad
11 a.m.: Jared Shoemaker
1 p.m.: Marley Edmunds
3 p.m.: Logan Purcell
5 p.m.: James Foster
7 p.m.: Jadan Trammell
Jarfly Brewing
12 p.m.: Dylan Forester
2 p.m.: Kevin Thomas
4 p.m.: Annie Boek
6 p.m.: Josh Secrest
8 p.m.: Dylan Rose
Live Art Demonstrations
Live art demonstrations will happen at tents around Fountain Square throughout the day, featuring artists following the theme -  Derby 101: Somerset Style.
Amanda Brooks
Megan Bradley
Earth + Wind Creative
The Shine House
Kristy Salley
Jeff Scribner
Anita Stigall
 Jacob Wilson
See you all in Somerset!
Y'all come back now, ya hear?
My best,
JC
Keep Up With JCP Eats
Thank you so much for visiting the blog today! I'd love to keep in touch via social media. You can follow my content on Instagram, Facebook, Pinterest, Tik Tok, Twitter, and LinkedIn.