Hey, y'all! Can you believe that the holiday season is knockin' at our doors? I'm in disbelief, yet in planning mode! I often get questions about hosting dinner parties/get-togethers; however, I get this question most through the aggregated holiday season. Thus, I thought I'd share my Top Four Tips For A Successful Holiday Gathering with y'all today. This post has been sponsored by Scotch-Brite®. All thoughts and opinions are my own.
Scotch-Brite® Advanced Scrub Dots Non-Scratch Scrubbers
I'm excited to share a product that I recently picked up at my local Kroger with y'all: the new Scotch-Brite® Advanced Scrub Dots Non-Scratch Scrubbers. A product made in the USA by 3M, the Advanced Scrub Dots Scrubber is, as we'd say in the country, "all that and a bag of chips". Perfect for cleaning up holiday messes (and for preparing for holiday gatherings with your family), the Advanced Scrub Dots Scrubber will now forever be a part of my household cleaning routine.
One of the best features of this new product is that it resists odors via an antimicrobial agent. Not only does the Scotch-Brite® Advanced Scrub Dots Non-Scratch Scrubbers protect from odors, it's also engineered for optimal use. One side suds up, while the other scrubs without scratching. The hex shape allows the sponge to stand upright; it dries fast; and as the name suggests, it's non-scratch. As a lover of dishes and antiques, this is of utmost importance to me.
Top Four Tips For A Successful Holiday Gathering
The holiday season is often equated with stress. While I do agree that being a host or hostess (especially for us southerners) can be stressful, I've learned a thing or two along the way. Apart from the tips listed below, remember this at the end of the day: enjoy the moment. The holidays are a special time with family. Make memories. Cook delicious food. You'll cherish these times forever.
Prepare The Day Before
Hosting a holiday dinner on Thursday? My #1 tip is to start on Wednesday. There are several foods that can be prepared ahead of time, which I strongly suggest incorporating into your menu. It's so nice to wake up on the day of and to only have a dish or two to make; the others can be ready to put in the oven or kept cold in the refrigerator!
While food preparation is important the day before, the two things that are often forgotten are the decorations. Decorations make a holiday table memorable -- and it's just as easy (and a lot less stressful) to decorate the day before the gathering! Put on the table linens, set the table, and cut fresh flowers. It truly makes all of the difference!
Use The Good Dishes
Yes, you heard me correctly. Use your chin, your grandmother's table setting, the beautiful dishes in your hutch. Use the good stuff, y'all.
Why? You, your children, your family -- you will all remember the special feeling that sentimental items invoke. I enjoy using things from family members that have passed during the holidays; it makes it seem as if they are at the table, in the present, apart of the day's festivities. That, to me, means a lot.
As a Kentuckian, I grew up exclusively using Louisville Stoneware (pottery made in Jefferson County) on the holidays. The memory of seeing the plates adorn my grandmother's table will forever be permeated into my memory. To this day, I use these dishes during the holiday season (though, a confession: they are my everyday dishes, too).
Because these plates mean so much to me, I only use the best items to care for them. Prior to the big day this year, I'll be using the Advanced Scrub Dots Scrubbers to shine them up and make them holiday-ready. As they are non-scratch, I know that this product from Scotch-Brite®  will keep them looking good-as-new for decades to come, as many of the place settings have already been in my family for 70 years!
Incorporate Pre-Made Foods Into Your Menu
Yes, a food writer just told you that store bought is fine. Because it truly is.
One of the easiest ways to alleviate stress during the holiday season is to not make everything from scratch. Now hear me out: there are some menu items that need to be made from scratch. But, there are several items that the benefit of being homemade does not outweigh the cost of time and stress. One of those for me? Yeast rolls!
Just as I picked up my Scotch-Brite® Advanced Scrub Dots Non-Scratch Scrubbers at Kroger, I also rely on my local Kroger for all food, beverage, and decor items during the holiday season. I'm a devoted Kroger shopper - year-round - as it is truly a one-stop-shop. As someone with two jobs, that's something that I certainly both appreciate and value.
Don't Worry About Cleanup
I've lost so much quality time with my loved ones over the years because I am too worried about washing the dishes + cleaning up after everyone. Don't do it. Put the dishes in the sink -- they'll still be there when your company leaves, I promise you that.
The quality time spent together during the holidays can't be replaced. Enjoy it. Savor it. It's certainly more fun than washing dishes!
That said, when it's time to cleanup, Scotch-Brite® has you covered. The new Advanced Scrub Dots Scrubbers are very effective at removing food that is dried and stuck to your dishes, which is important during the holidays, as courses often incorporate ingredients that are tough to cleanup (I'm looking at you, cheese).
Where To Buy Scotch-Brite® Advanced Scrub Dots Non-Scratch Scrubbers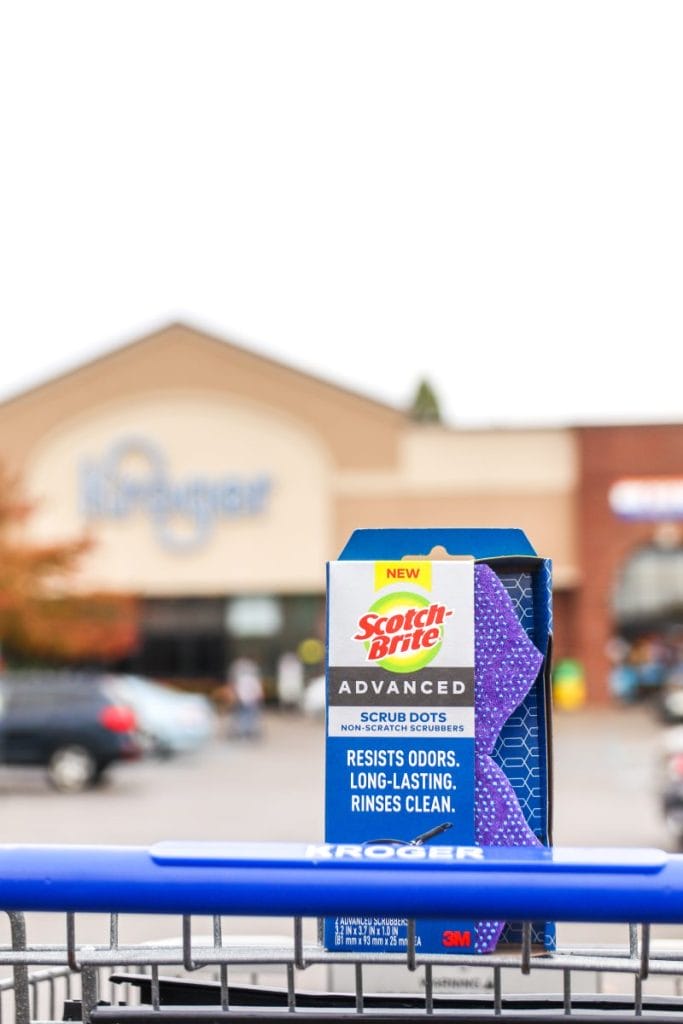 The holidays are coming, y'all. But, with Scotch-Brite® in-hand, I'm ready. Are you?
Have a blessed holiday season!
Y'all come back now, ya hear?
My best,
JC
Did you enjoy reading about my Top Four Tips For A Successful Holiday Gathering? Read my other blog posts here.