Hey, y'all! Louisville Burger Week 2020 set out to make a lasting impression - and that it did. Before I chat about the burgers I enjoyed, I want to take a moment and applaud all of the participating restaurants. This was the most that I have been out in the city since March, given the state of the world; that said, though anxious, I was overly impressed with the safety precautions that were implemented. The service was top-notch, as was the food. The demands of Burger Week in a normal year can be overwhelming; thus, especially this year, I think all restaurants deserve a round of applause. With that being said, let's chat about it: my experience with Louisville Burger Week 2020, presented by the Kentucky Beef Council.
This post is a collaboration with Kentucky Beef Council on behalf of the Beef Checkoff. I received compensation, but all opinions are my own.
How It Went Down
I consider myself to be a Burger Week Champion. Last year, I tried every. single. burger. While I was tempted to do so again this year, I decided that my original goal was a little too ambitious. As such, I set out to try nine burgers around the city (at both some of my favorite restaurants in the 502 + some new-to-me spots!). I'm happy to report that I did just that. *applause*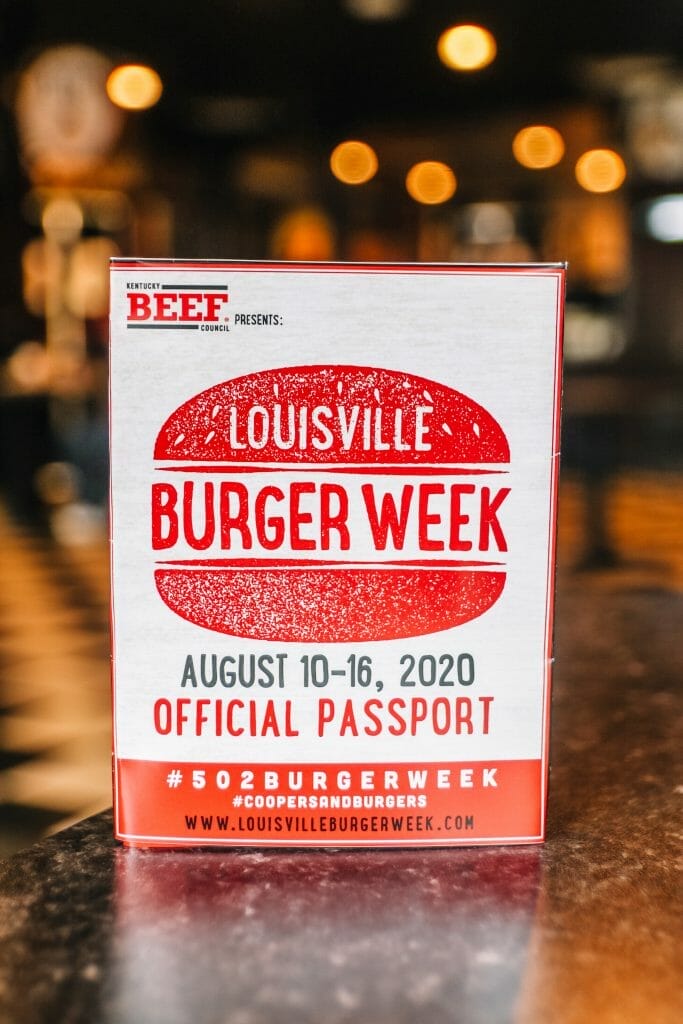 Rule-Breaker
I have a confession: I broke my #1 Burger Week Rule this year. I visited the same restaurant twice. The burger was so good that I couldn't resist. Keep reading to find out which restaurant had me coming back for more...
Burgers I Tried During the 2020 Louisville Burger Week: The Experience
Note: I will list these in no particular order, though will save my favorite for last.
I. Mark's Feed Store (Highlands)
Mark's Feed Stack: A juicy 8 oz burger basted with Mark's Red Sauce, topped with American cheese, onion straws, fried pickles, and then drizzled with Mark's White Bar-b-q sauce on top and served on a toasted bun.
JC's note: Fantastic -- always one of my favorites!
II. Drake's - St. Matthews
Korean BBQ Burger: A fresh, never frozen patty with Korean BBQ glaze, crunchy Kimchi slaw & chili garlic mayo on a warm butter-toasted bun.
JC's note: Drake's burger patties are some of the best. I always look forward to their Burger Week offerings!
III. Check's - Germantown
BBQ Cheddar Burger: ¼lb burger with house made bourbon bbq sauce and cheddar cheese, served on pretzel bun.
JC's note: I was so happy to see neighborhood favorite, Check's, as a part of Louisville Burger Week. They have such a great atmosphere + I loved the pretzel bun!
IV. Cask Southern Kitchen and Bar
⅓ pound smash burger with pimento cheese, bacon, over medium fried egg, smoked tomato mayonnaise, + house made pickles on a brioche bun.
JC's note: A new restaurant for me; I'm excited to go back to check out their standard menu. This was definitely one of the best burgers of the week for me!
V. Four Pegs Beer Lounge
Four Pegs Burger: ⅓ lb smash burger topped with pulled pork, cheddar cheese, and BBQ sauce.
JC's note: Another neighborhood favorite, I was so happy to visit Four Pegs (I always am!). Great burger!
VI. Fork + Barrel
Fork + Barrel Burger: Grilled 6oz Burger, House Made Pimento Cheese, Spring Mix and Candied Bacon on a Pretzel Bun.
JC's note: Great, as always. Do yourself a favorite and visit Fork + Barrel. It's a fantastic local spot in the Clifton area.
VII. Napa River Grill
Barbecue Bacon Double Cheeseburger: Two 2 oz. patties of house ground brisket, top round, and Applewood bacon, packed with flavor on a potato bun with horseradish barbecue, Tillamook cheddar, caramelized onions and shredded lettuce.
JC's note: NRG does everything right. Trust me on that one, y'all.
VIII. Six Fork Burger Company
Classic Bacon Cheeseburger: Double patty with cheddar cheese, chopped smoked applewood bacon and a 16 ounce Kool-aid!
JC's note: The burger, Kool-aid, and owner? All top-notch. This was a new-to-me restaurant and I'm excited to visit it again (and again) in the Shelby Park neighborhood.
IX. FOKO
Tlayugueza Burger: A Mexican twist on an American Classic. The perfect combination of the classic diner style burger and Oaxacan street food staple, the Tlayuda. Smashed patty with spicy mayo-mustard, pickled red onions, lettuce and tomato. Sandwiched between two Tlayudas, one with a black bean spread, the other with melted asiago.
JC's note: MY FAVORITE. Not only the most unique, but the most robust in flavor. The FOKO burger receives two thumbs up from me! As I said above, I broke my #1 Burger Week rule: I went back and had it twice. Located in Logan Street Market, you'll love FOKO's appreciation for their Mexican roots. Run, don't walk, to visit them.
A Kentucky Beef-Filled Dream
Beef... it's just a little better in the Commonwealth of Kentucky, wouldn't y'all agree?
I love Burger Week and I'm already counting down the days until next year. If y'all participated, which was your favorite? I loved meeting so many of y'all throughout the week + look forward to hopefully seeing you out and about in our city, supporting the local, diverse, first-rate restaurants that call Louisville home.
Y'all come back now, ya hear?
My best,
JC
Read about my past #502BurgerWeek experiences: here and here.
#kybeef #502burgerweek #beefitswhatsfordinner