FTC: This post was kindly sponsored by Dollar General; all opinions expressed, as always, are my own.
Hey, y'all!
Saturday, June 20th is the first official day of summer. Can I get an amen? Summer - most specifically, warm weather and being by water - is what makes my soul the happiest; the season is also just a little sweeter south of the Mason-Dixon Line, but that's just my (incredibly biased) opinion.
Growing up in rural Southern Kentucky, I was blessed to have a one-stop shop in my community: Dollar General. As the most readily-available store in the region, Dollar General has proven to be my family's go-to for years.
In the summer, when we're by the pool or at Lake Cumberland, I know that Dollar General has everything that I need for a fun, well-fed, enjoyable summer.
Summer Hosting
Most of my hosting during the warm months happens by the pool. With beautiful, warm weather - I can't stand the thought of being inside!
To host, there are two things that I must always pick up: sunscreen and Citronella candles. Both are necessities in the summer. I also think that to have an activity to enjoy after being in the sun all day is important; as for my family, we are card players! All of these items can be found in your local Dollar General.
Another tip for making your party extra special? Glass bottle beverages! They are nostalgic and will definitely make your backyard party stand out.
Summer Holidays
Now y'all know that I love food; and while I enjoy "eatin' high on the hog" at times, there's nothing that I love more than a good cookout. On my most recent trip to Dollar General, I picked up the perfect southern tablecloth ($2) for my outdoor table - I noted the red gingham and it immediately went into my cart. To complete the table, I grabbed the tableware (napkins ($1), plastic ware ($3), paper plates ($3.85)), additional Citronella candles ($3-$5), American flags ($1) (perfect for the Fourth of July!), a cooler ($13.00), and the perfect glass serving dishes made by Anchor Hocking ($3-$5).
What's on the menu for a summer cookout at my house, you ask?
Hot dogs (Nathan's - $4.25). Case-closed. I like classic toppings + chopped southern Vidalia onions. On the side, I like to serve deviled eggs, Clover Valley Baked Beans ($1.40), chips ($3.00) + dips ($3.75), fresh vegetables (roughly $2.00 each) and sweet, fresh-cut fruit for dessert (roughly $1 each).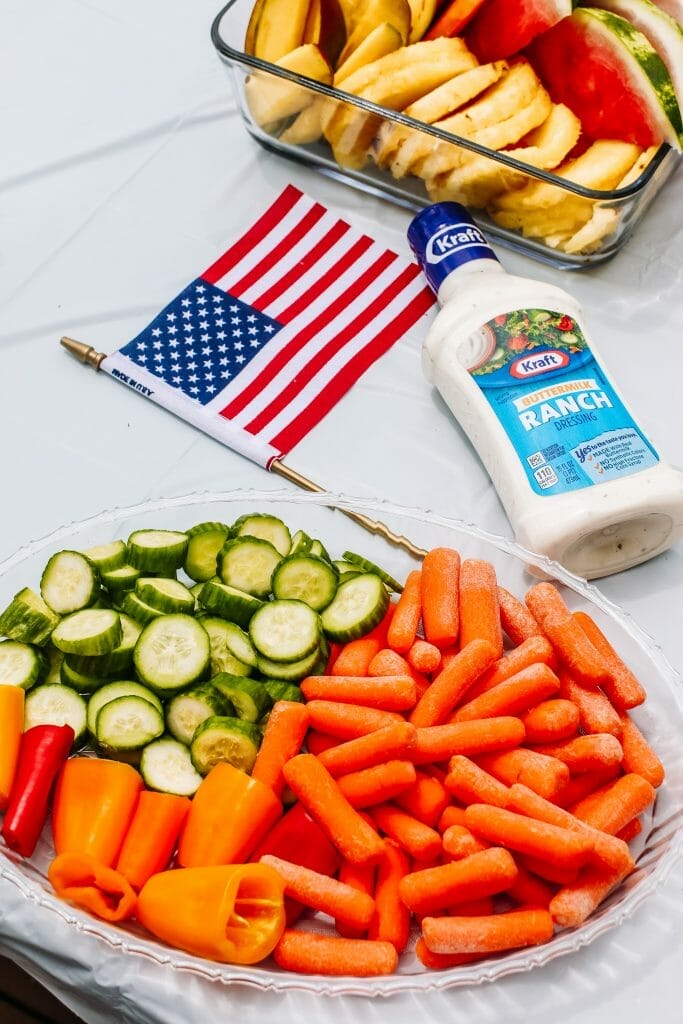 Saving Money With The DG App
The best part of summer family fun at Dollar General? It's an easy way to save money! On top of the already-low prices, the DG App is a fantastic place to search for DG Digital Coupons. You simply add them to your account and check out with them once in-store. There are hundreds, y'all!
Another feature of the DG App that I love is the option to make a shopping list. This keeps me on track with what I need once in the store, which is another great money-saving tactic.
Oh, and shall I mention my favorite weekly coupon? Each Saturday you can get $5 off of a $25 purchase - an additional 20% savings!
Be sure to sign up for the app, y'all! As my granny taught me: "A penny saved is a penny earned"!
What is your family doing to enjoy the summer months? Do y'all have any specific traditions? I want to hear about them!
As always: Happy Eating, Happy Traveling, Happy Living.
Y'all come back now, ya hear?
My best,
JC